Styling Advice | Five Hair Accessories to wear with your hair down | Top Wedding Tips
Posted on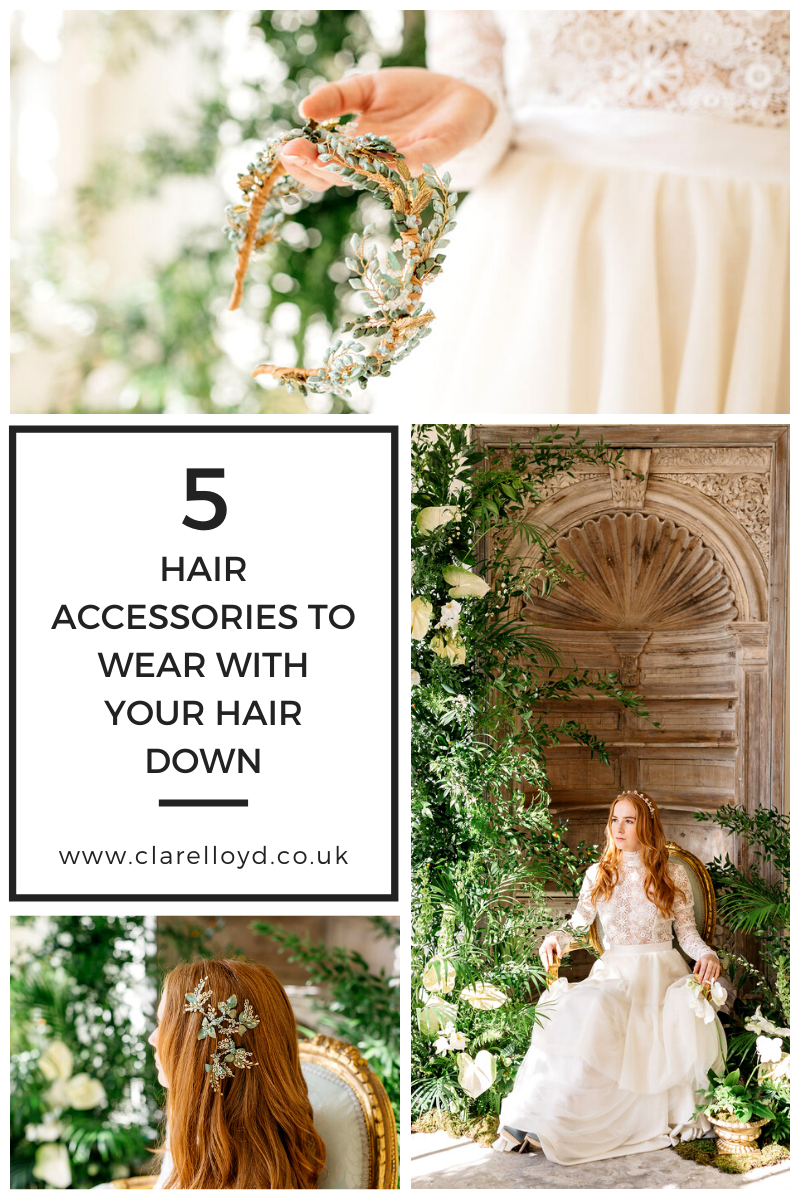 Styling Advice | Five Hair Accessories to Wear with your Hair Down | Top Wedding Tips
Trying to decide how to wear your hair on your wedding day might be an easy decision to make; you might know exactly how you're going to style your hair and you might already know exactly what style of hair accessory you would like too. On the other hand, you might not have any idea where to start - you might love lots of different hair styles but you're not sure what would work with your hair or where to begin with choosing a headpiece. Hopefully, this series of Styling Guides will give you some inspiration so, for my first post in this series we're going to look at some advice and styling tips for wearing your hair down with my top 5 accessories. Here we go.....
1. HEADBANDS
Perhaps the most obvious choice to consider if you are thinking of wearing your hair down for your wedding day is the headband. Headbands come in all shapes, sizes and materials and cater for many different budgets. A quick search of Google will bring up thousands of images and sites so knowing where to start can be tricky. My headbands come in lots of different shapes and sizes too but the one thing they have in common is that I make all of them using very narrow headbands that are strong, flexible but ultimately comfortable enough to wear all day. I also wrap all of my headbands with soft grosgrain ribbon so that you can match the ribbon to your hair colour and also so that the band doesn't slip or pinch behind your ears. A headband is easy to style yourself if you don't have a hair stylist and it's an easy option if you're wearing a veil too. They are also perfect for short hair and hair of different textures, both fine and thick.
Here's a beautiful image by Bowtie and Belle Photography of my Viridana Headdress - Viridana is a statement symmetrical design, much lighter than she looks with a soft ribbon covered headband and, in this image, made in glorious shades of green and gold. Worn slightly lower on the forehead, a statement headband can look striking with long, loose hair.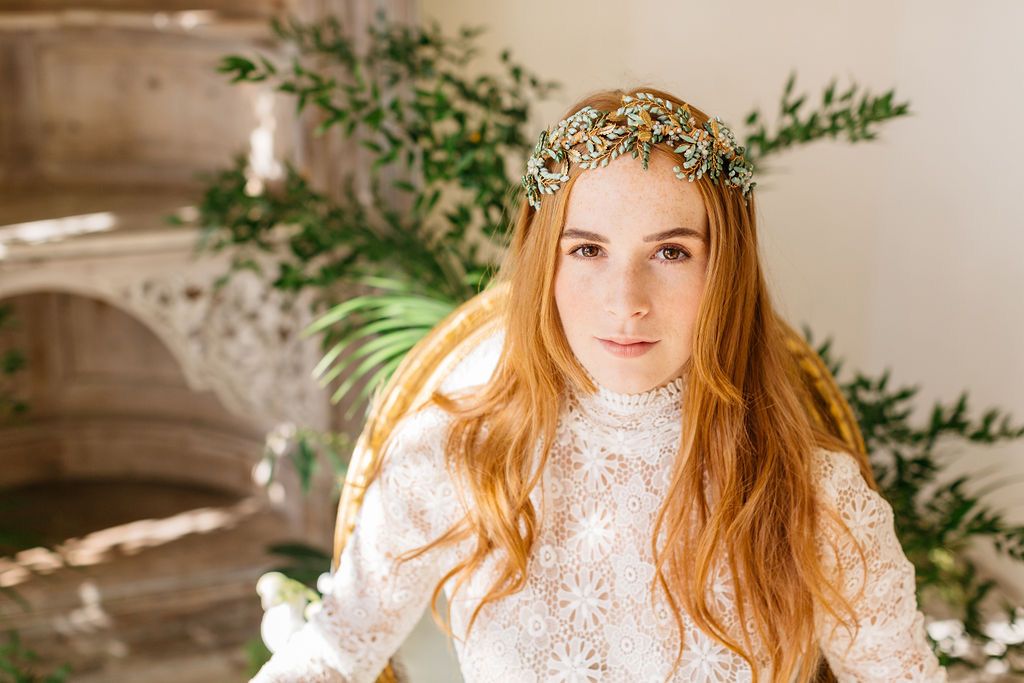 2. HAIR VINES
A hair vine is essentially a long length of beaded wire - they can be very simple with scattered pearls and crystals along a fine twisted length of wire or, they can be far more intricately beaded with a focal beaded section. They can be long so you can thread through a braid or much smaller so that you pin them into the hair with grips and hair pins. They are usually a very lightweight and comfortable option to consider and they work really well with you hair worn down.
Here's my Eira Hair vine worn with elegantly waved loose long hair. Eira is a timeless, elegant strand of glass pearls and tiny crystal bicones. With little loops at either end of the vine, this hair vine fastens underneath the hair with a ribbon so that it will stay in place.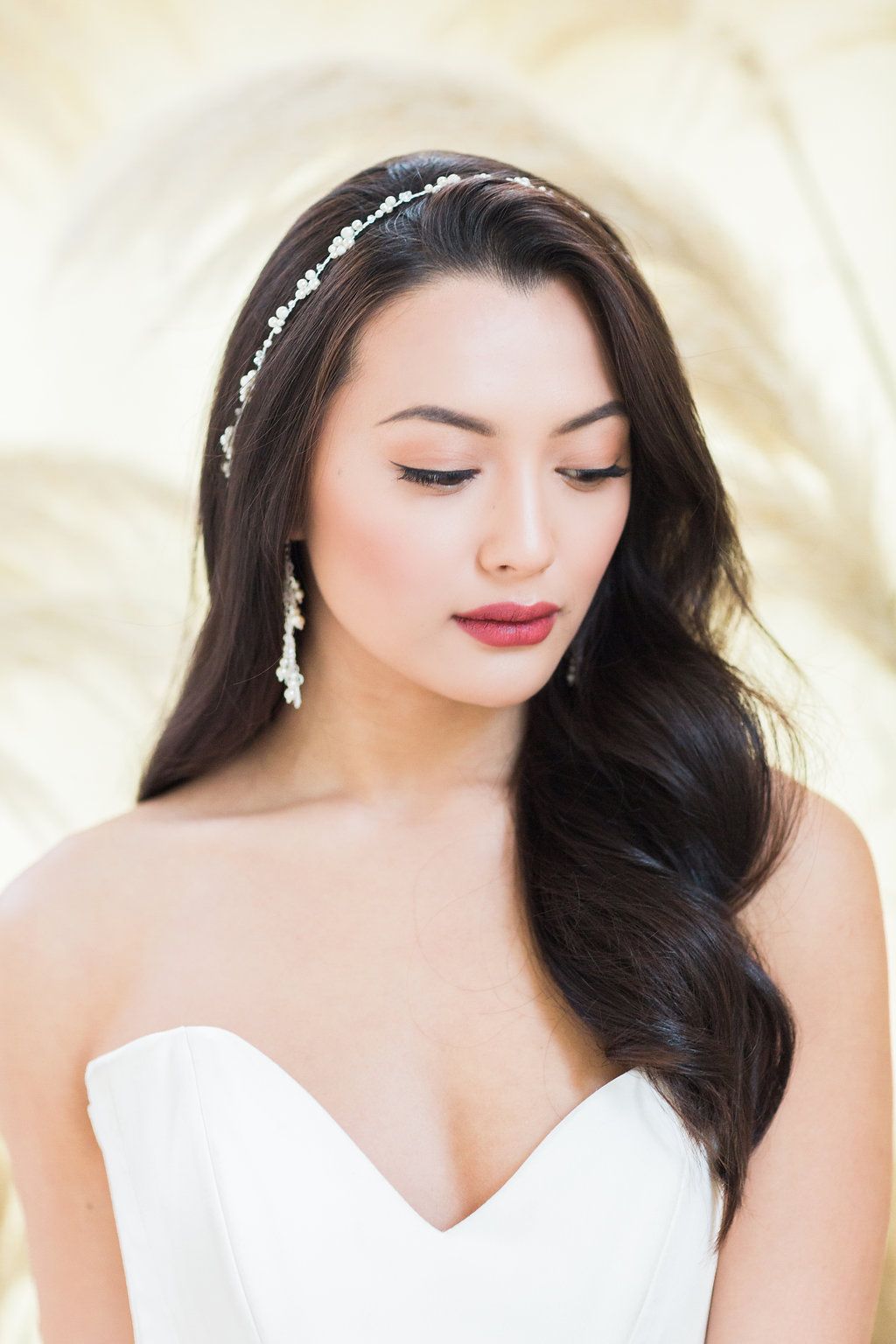 3. HEADPIECES
Headpieces can be extremely versatile hair accessories to wear on your wedding day but, can be more challenging to wear with long loose hair. They do, however, look beautiful when styled in elegant loose waves as shown in the image below. Headpieces can be either pinned into your hair with grips and hair pins or, they can be attached to a hair comb that will be pushed into your hair. Styling a headpiece with your hair down works better with thicker hair types and also with waved or curly hair so that the headpiece has more support so it's important to consider the weight of the headpiece and also think about whether your hair would support this type of accessory. A half up, half down style would be a good choice for finer hair.
Here is my Aurelia headpiece worn with long, loosely waved hair. Image by Bowtie and Belle Photography.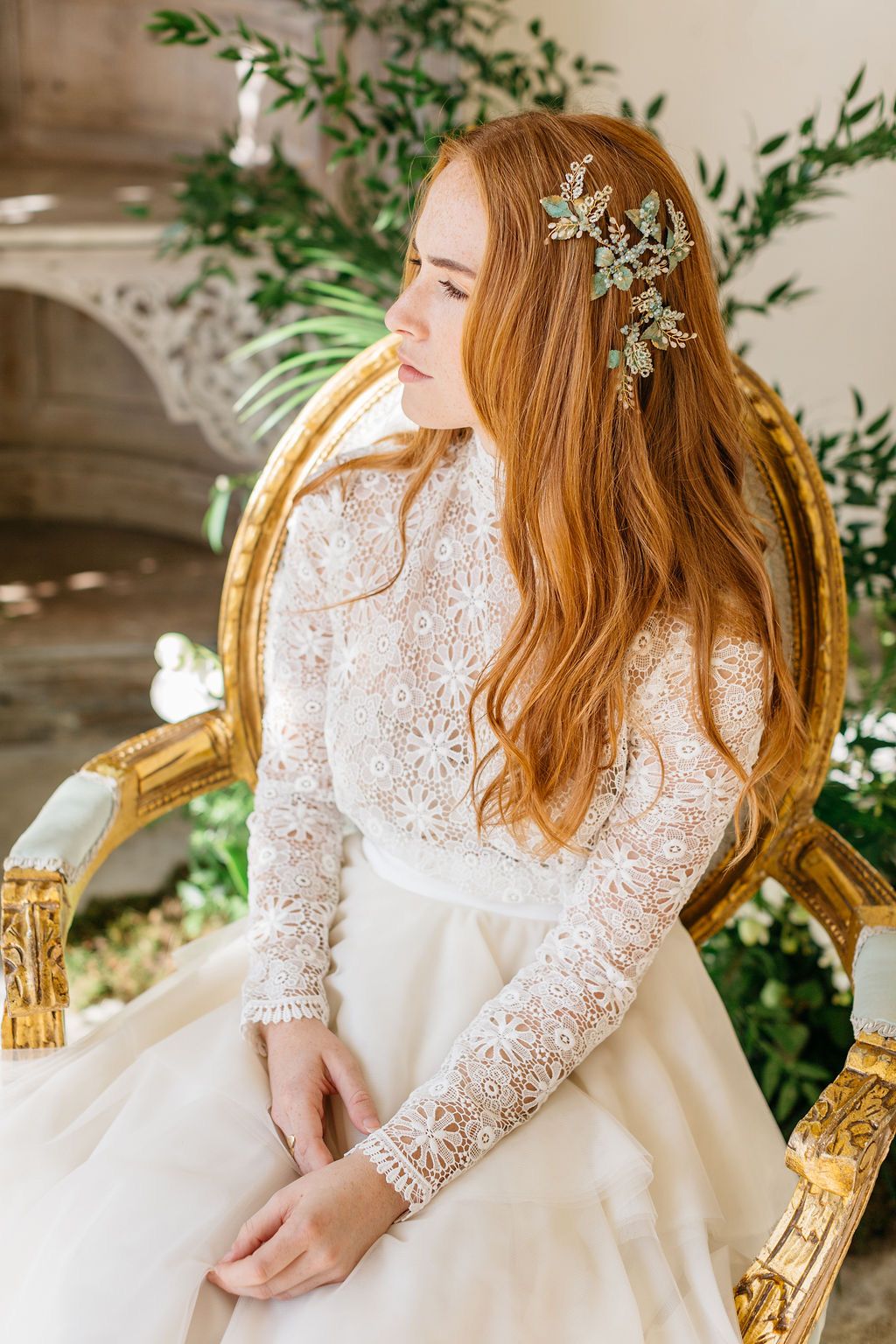 4. LIGHTWEIGHT CROWNS
A lightweight crown can also be a very comfortable headdress to wear with hair down. I make a variety of bridal crowns from statement pieces to more delicate and lightweight styles like my Mimosa Pearl Crown. All of my crowns are made using a handmade copper headband which I make to measure. The copper is hammered into shape and wrapped with silk ribbon to ensure a comfortable fit. My lightweight crowns have removeable ribbons at either end so you can secure the headpiece in place. Crowns can be worn in numerous different ways - more of that to come in another post - but they look beautiful when worn as a more traditional headband and secured in place with the ribbon ties.
Here is my Mimosa Pearl crown worn lower on the forehead for a more ethereal look. Image by Oxi Photography.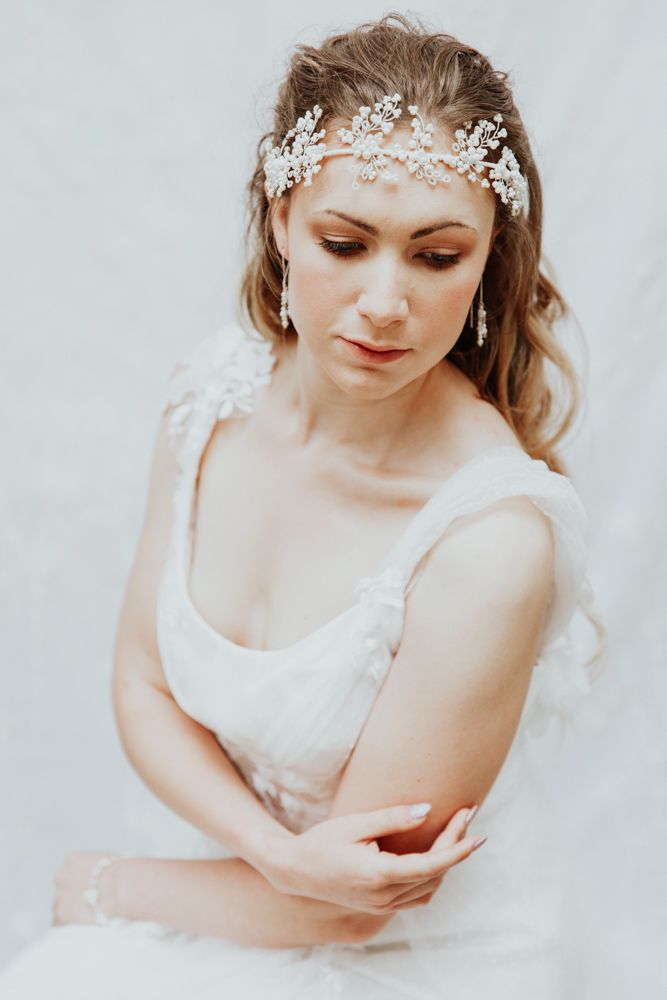 5. HAIR PINS
Again, hair pins might not be the obvious choice to wear with hair down but, with a bit of careful twisting of the hair and weaving the pin into position, they can stay in place all day and they look gorgeous. Lighter weight pins work best so that they don't just slide out of the hair and a set of three smaller pins can look lovely grouped together. For finer hair, a half up, half down style would work better as you would have some support for the hair pins.
Here are my Issoria Hair Pin Trio looking gorgeous in softly waved loose hair. Image by Bowtie and Belle Photography.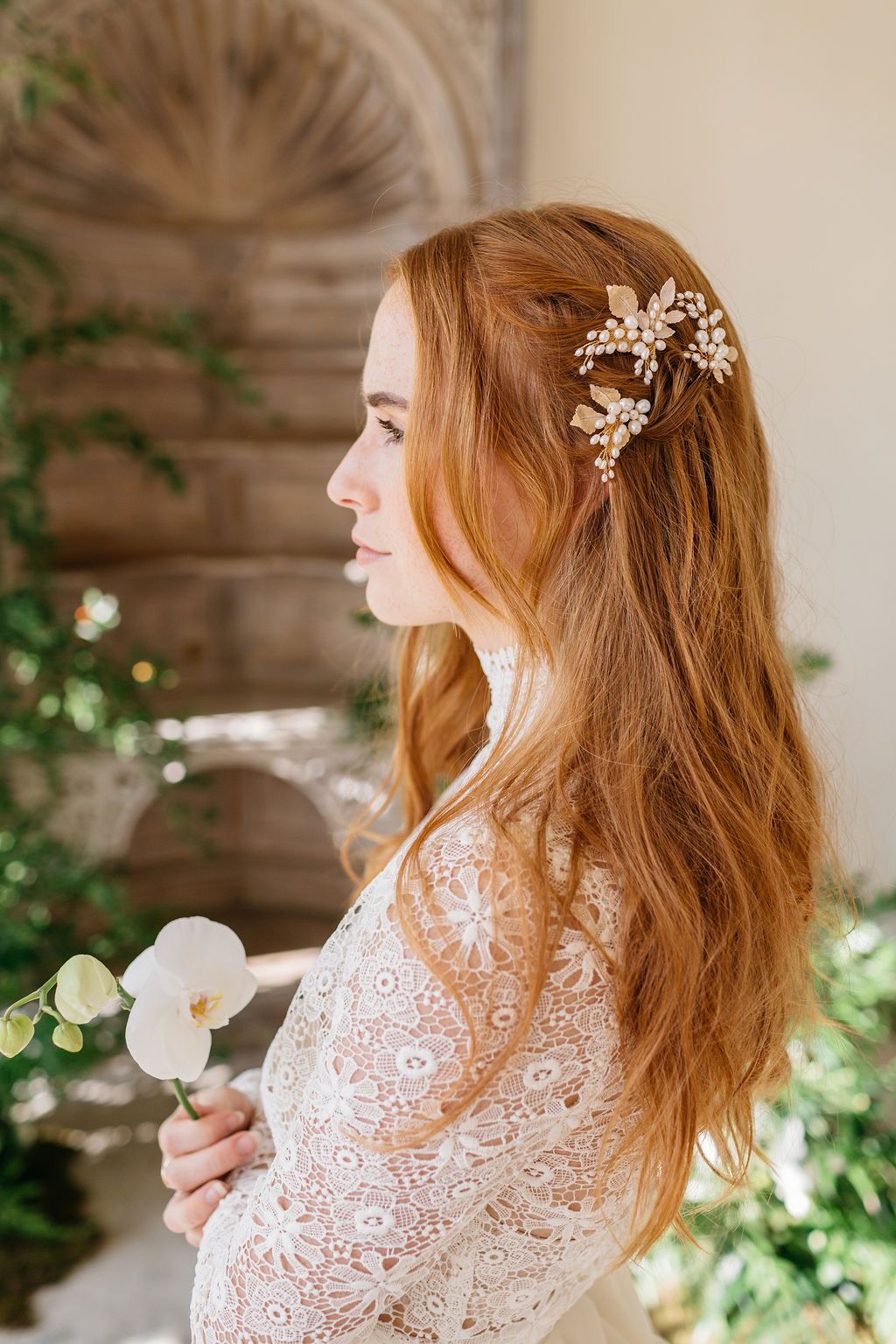 Hopefully, this will have given you some ideas and inspiration for hair accessories to wear with your hair down.
If you need any more ideas or advice or you're thinking of having a headpiece. designed for you, get in touch - I'd love to hear from you!
More ideas will be coming up soon for different types of hair style and how to choose accessories.
All of the photos are taken from shoots featured on my website.