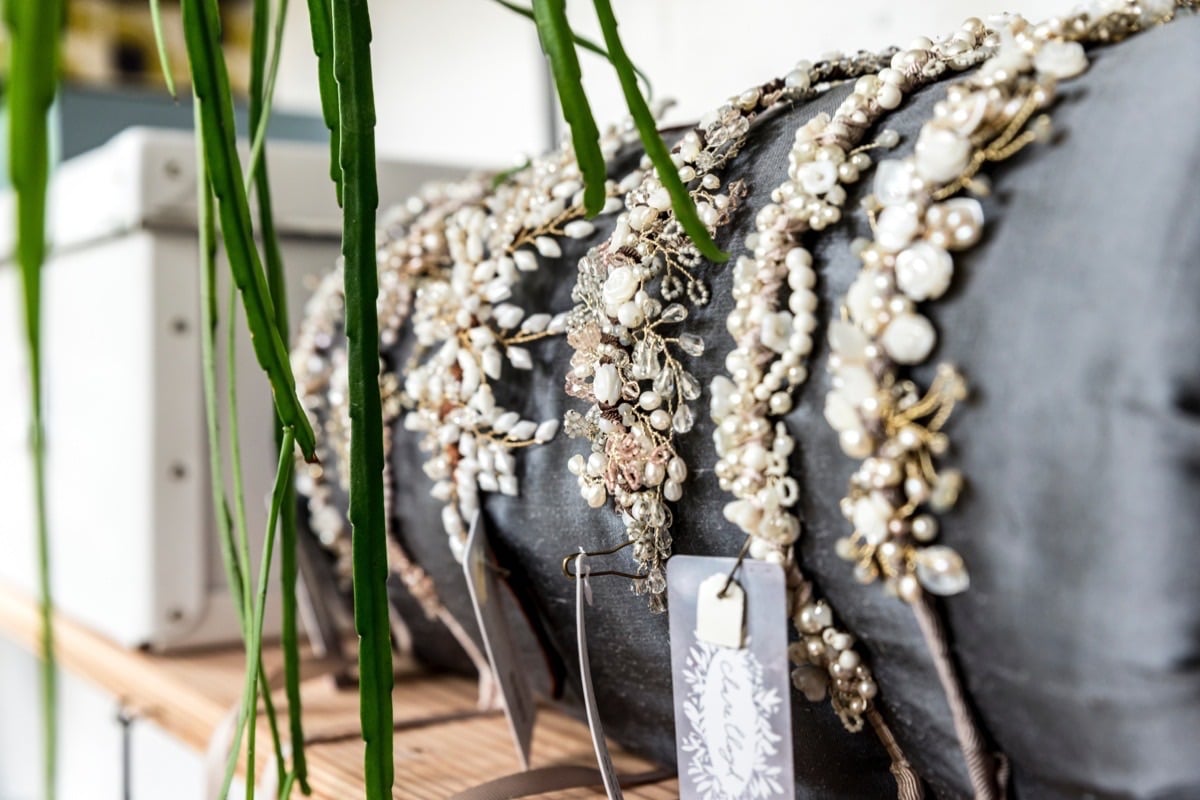 I'm getting married in a couple of weeks time, can you help?
If your order is urgent, please contact me and I will do my very best to help you. I do try to keep a good selection of designs in stock so I may well have something that is perfect for you so please send me an email and I'll see what I can do to help.
What does 'made to order' mean and how long does production take?
'Made to order' means that I will start making a design once an order is received. As all of my designs are made entirely by hand and just by me, my production time can take between four to six weeks depending on the time of year and my current work load. Details of expected production time is detailed on each product listing but if you have any questions or need an item urgently, please contact me before placing an order.
Can you do rush orders on 'Made to Order' pieces?
I will always do my very best to accommodate rush orders but this depends on my current work schedule and the number of bespoke orders I am working on at that time. Please send me an email outlining your requirements before placing an order and I will do my very best to help. I do try to keep popular designs in stock throughout the year so I may well have something already made that would be perfect for you. I do not charge a fee for rush orders; if I can help you, I will happily do so.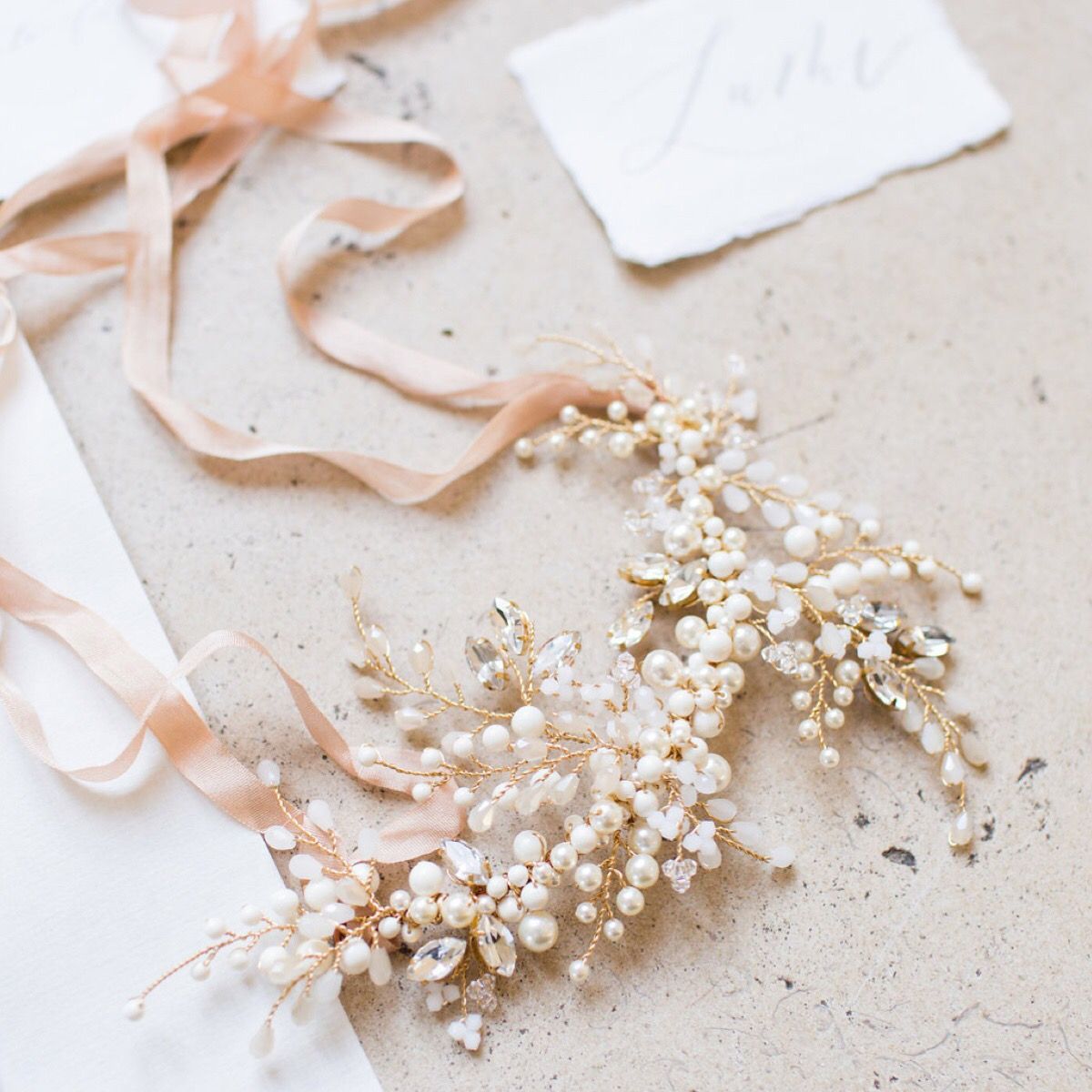 Do you do custom changes or custom colours for existing designs?
Yes, most of my designs can be adpated and custom colours can be incoropated into existing designs. Please see my guide to Bespoke Designs for more information on the sorts of things that can be changed and for full details of how the bespoke process works.
Do you make Vegan and Eco Hair Accessories?
Yes, I do and can. I can create beautiful bridal accessories using all glass materials and bamboo silk - all of which are vegan products. I can also use only recycled or re-purposed materials for an eco-conscious headpiece.
What is the best way to contact you?
Please send me an email to [email protected] and I'll get back to you within 48 hours.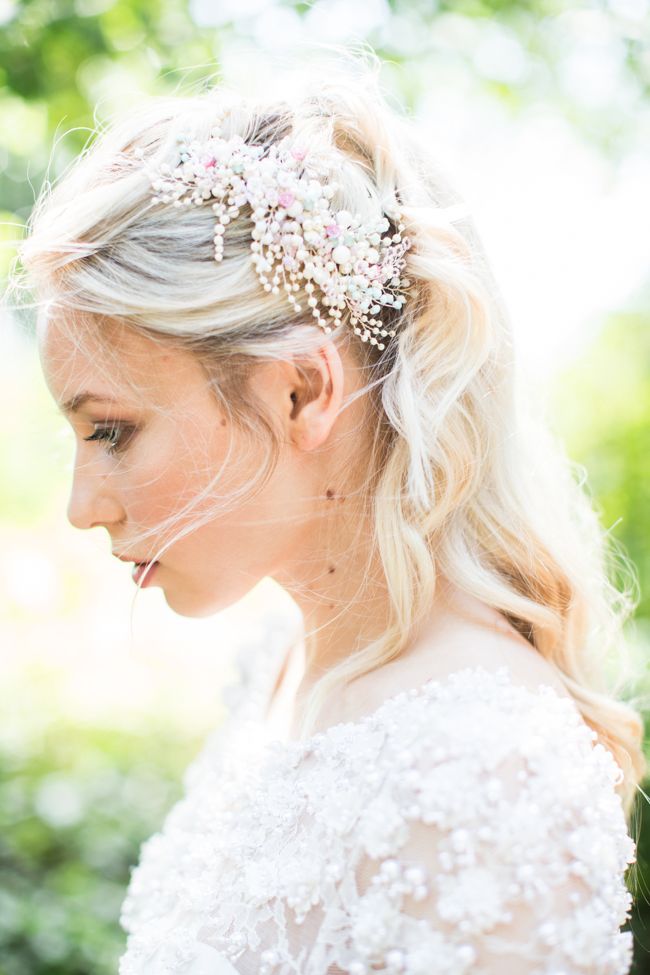 Do you have a shop or studio I can visit?
I don't have a shop but you are more than welcome to make an appointment to visit my studio. I have a lovely working studio; it's a friendly little place and you're more than welcome to arrange a suitable time to come along and try on as many pieces as you'd like as well as have a chat about your ideas and requirements - more info can be found here. If you're thinking of having a bespoke piece made, we can talk about your inspiration and work on a design together. To book an appointment, please email [email protected]
I'm not quite sure what I want or what might suit me?
Don't worry if you don't know exactly what you're after - choosing hair accessories and jewellery can be overwhelming with so much choice available and so many different types of accessory to chose from. We can start by having a chat over the phone or by email to talk about things and you can tell me about your style of dress, how you're gong to wear your hair etc - it'll be easier than you think and choosing your accessories should be a fun and enjoyable experience and I'm sure I'll be able to find something that will suit you perfectly and be lovely and comfortable to wear too. The entire process can be done by email too so please don't worry if you aren't able to visit the studio (Pinterest is also very helpful and secret planning boards can be a lot of fun!)
I'd like to incorporate colour into my hair accessories and jewellery but I can't come to the studio - how can we match up colours?
I love to work with colour whether through the subtlest and tiniest differences in shade or by using beautiful rich shades so whether you're after something to colour match or co-ordinate, I'm sure I can find the perfect colours. When a visit to the studio isn't an option, there are several ways that we can colour match - the first choice would be for you to send me some fabric/ribbon colour samples in the post so I can best match up materials and I can also send you colour samples of beads, fabric etc so we can make sure colours are perfect. Another option is to use Pantone colour references - I use the Pantone Colour Guide when sourcing materials and it's a universally accepted colour reference tool so no matter where you live, I'm confident that I can find the perfect colours for you.
More information about my Delivery and Returns process can be found here and the legal bits and bobs can be found here. These details are also accessible from the footer of this website by clicking on the links.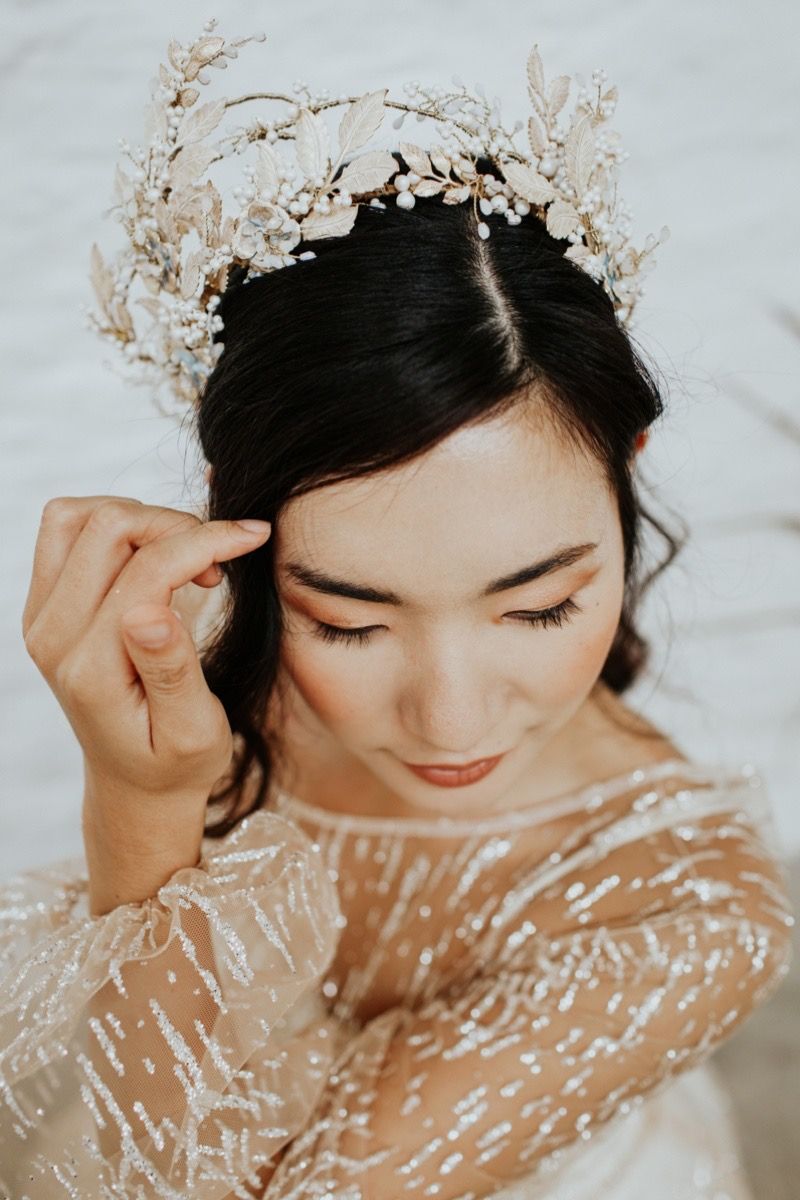 Looking After your Hair Accessories
I hope that you will be able to wear your bridal hair accessories and jewellery long after your wedding day. I think there really ought to be more every day crown wearing going on! However, for the days when you won't be wearing a crown, here are some tips for how to look after your headdress:
1) Keep you hair accessory in the box when it's not in use. My boxes are strong and designed to keep delicate hair accessories safe from damage and dust. Alternatively, your headpiece would look beautiful displayed under a glass dome but please keep out of direct sunlight. Naturally dyed silks will fade and some glass beads can discolour especially if left in sunlight.
2) I use a variety of metals from non tarnish raw brass, non tarnish silver plated wire, raw brass, copper and recycled sterling silver and gold. Tarnish is a natural process and will occur when metals are exposed to oxygen. Even non tarnish metals will eventually tarnish over time (several years depending on levels of humidity) if left out on display. The best way to prevent tarnish is to keep your headdress in an air tight box when not in use. I include anti tarnish patches with all my accessories which provides a level of protection for a short period or time - these can be replaced. Natural metals such as copper, raw brass and sterling silver will all tarnish over time and develop a richer, deeper patina. If you do not want this to occur, the best option is to put your headdress into its box and then put the box into an air tight container.
Can I Clean my Headdress or Hair Accessories?
This is a tricky one as most of my designs are incredibly intricate and fairly delicate so it would be difficult to clean an intricate headdress in the same way you might clean jewellery. With care, your headdress will last a life time and it is made to be passed to future generations but it does need to be cared for in the same way as you might care for precious jewellery or a delicate veil. Always keep your headdress in its box or in a display case. Avoid exposure to air for long periods of time to reduce the risk of tarnishing. If your headdress becomes dusty then use a soft artists' paintbrush to gently remove any dust. Avoid exposure to any chemicals as these can and will damage the delicate stones, pearls, crystals and glass beads used. Hairspray can do untold damage to precious stones, pearls and the coating on many glass beads and it accelerates tarnish on natural and plated metals. It is best to ensure that you hair accessory is positioned after hairspray and styling products have been used to avoid damage and disclouration. Please also avoid getting your headpiece wet - water shouldn't damage your headpiece but please do not immerse in water especially if any fabrics are used such as silk.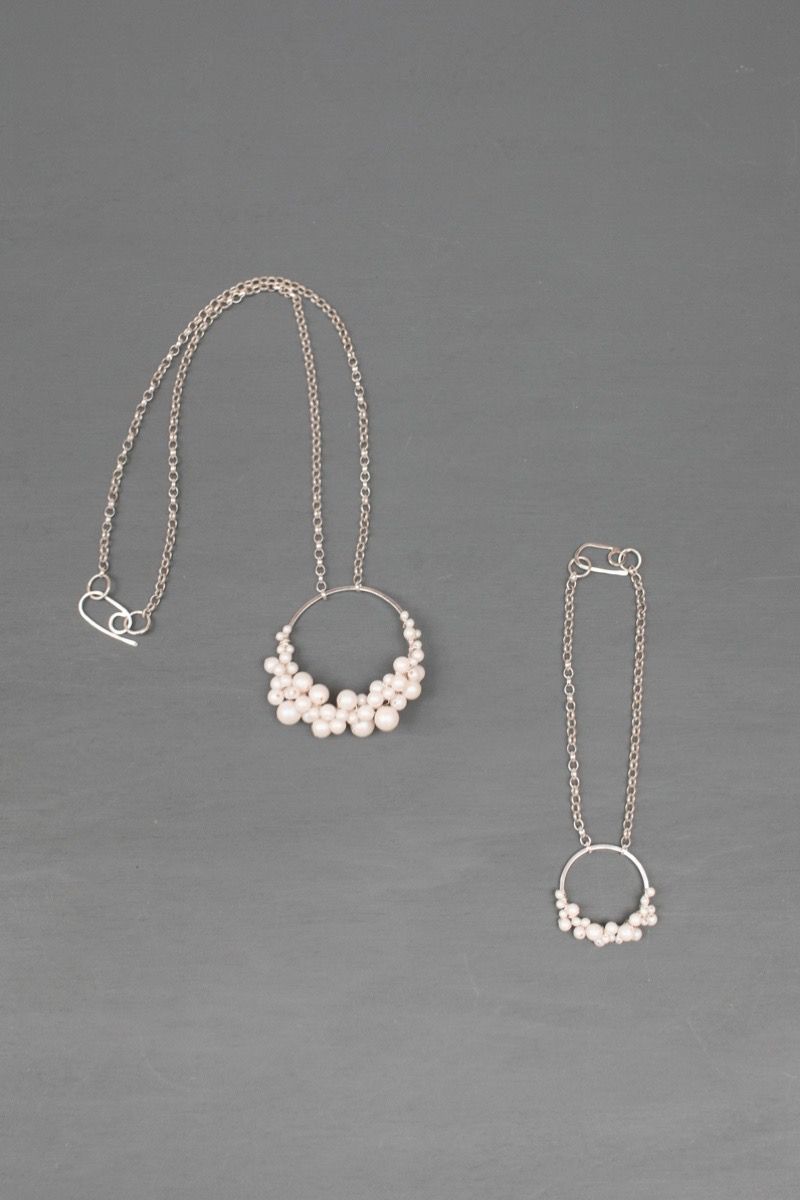 How do I look after my Jewellery?
I use recycled sterling silver for the majority of my jewellery but I also occassionally use 14 carat gold fill metal, raw brass and recycled 9 carat gold.
My jewellery is often very delicate and intricately hand wired and it needs to be treated gently and with care.
If semi-precious stones, freshwater pearls, glass pearls or crystals are used, great care should be taken to avoid exposing these to any chemicals to prevent damage.
I don't encourage the use of any chemicals to clean your jewellery and would advise keeping it in the box and then a sealed container to prevent tarnishing - avoiding exposure to air is the best way to prevent tarnishing from happening in the first place.
Natural lemon juice can be used to remove tarnish from sterling silver and brass but must be thoroughly removed with mild soapy water afterwards as it is a strong acid. A cotton bud or small piece of cloth can be used to gently apply the lemon juice and rub it into the metal but great care should be taken to avoid contact with any stones or beadwork.
On more robust items of silver or brass (such as my Leaf headpieces) I find that a gentle rub with a soft nail buffer can work wonders to remove tarnish and restore shine. But please be gentle!