News and Events | BRIDAL SAMPLE SALE for Wedding Hair Accessories
Posted on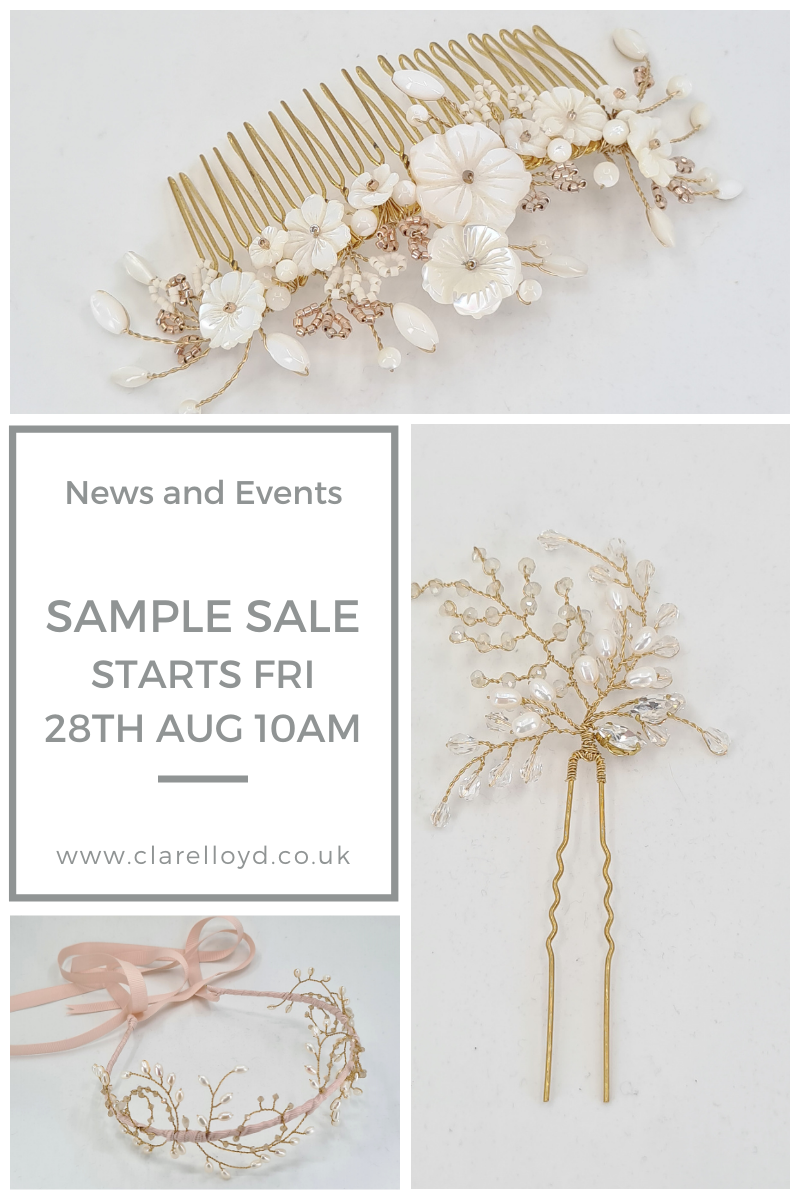 News and Events | Bridal Sample Sale for Wedding Hair Accessories
My bridal sample sales don't happen very often but when they do, there are some bargains to be had. I make a lot of bridal hair accessories and wedding headpieces - an awful lot. Some of them are experiments and don't make it to a collection and some of them are display headpieces or may have been used on a photoshoot. About once a year, I sort all of these pieces out and put them in a sale, so at 10am on Friday 28th August the Sample Sale will be live!
Bridal Sample Sale for Wedding Hair Acessories
I've split the sale into four sections so it's easier to find what you're looking for. Choose from Hair Combs, Headdresses and Crowns, Hair Vines and Headpieces and Hair Pins. Each listing explains the conditon of the hair accessory and they have been reduced in price by up to 50%.
Here are some of the designs available.
Lumi Headpiece and Statement Hair Pin - This is one of my favourite designs and I have a sample headpice and statement hair pin available in silver. These pieces have been used in a photoshoot but they are in perfect condition. Lumi in silver would be perfect for a winter wedding.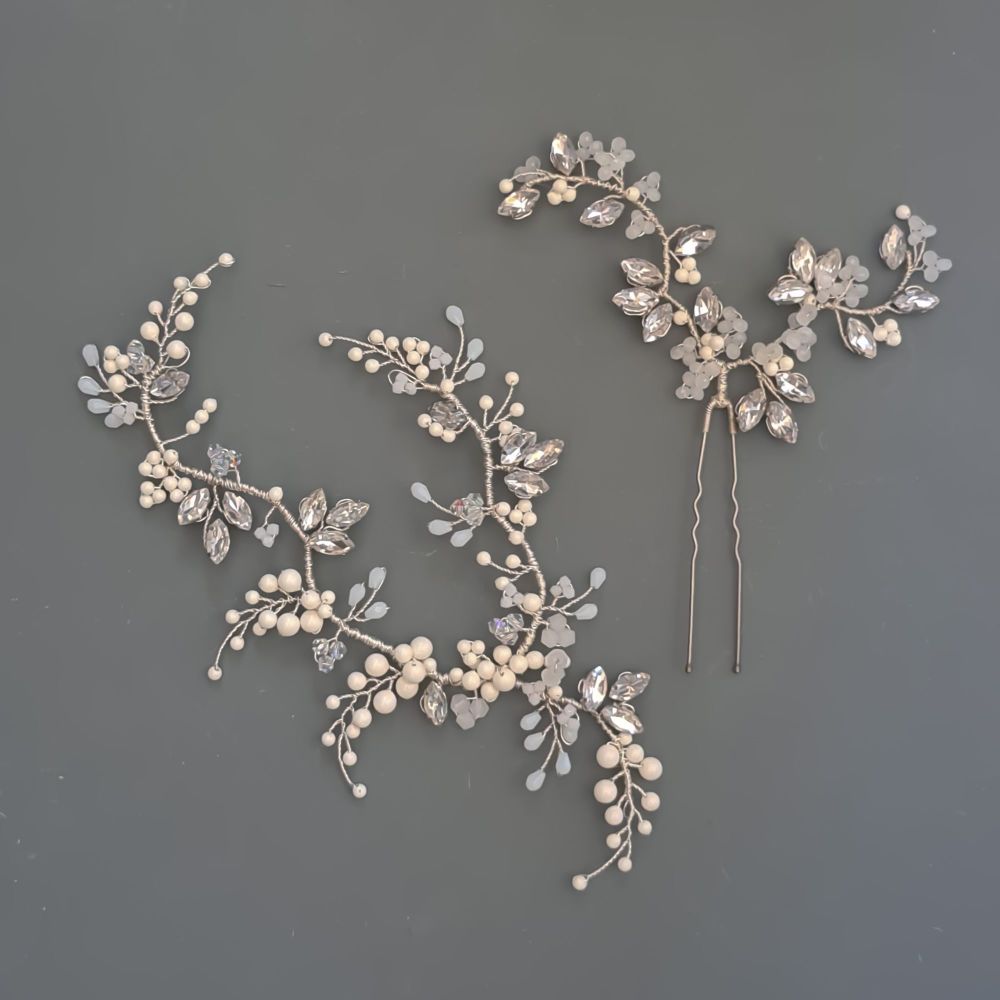 This is one of my favourite pieces in the sample sale - my Autumn leaves crown in midnight blue. This is a completely unique headpiece and it is made from a hand forged copper headband and features masses of antique bronze metal leaves and flowers with delicately wired crystals in shades of blue grey and sand opal, tiny Miyuki delica glass seed beads in grey opal and glass pearls in platinum (a shade of warm grey). The headband is wrapped in midnight blue silk ribbon with removable silk ribbons at either end of the headpiece. Another headdress that would be perfect for a Autumn or Winter wedding and would fulful the tradition of having 'something blue.'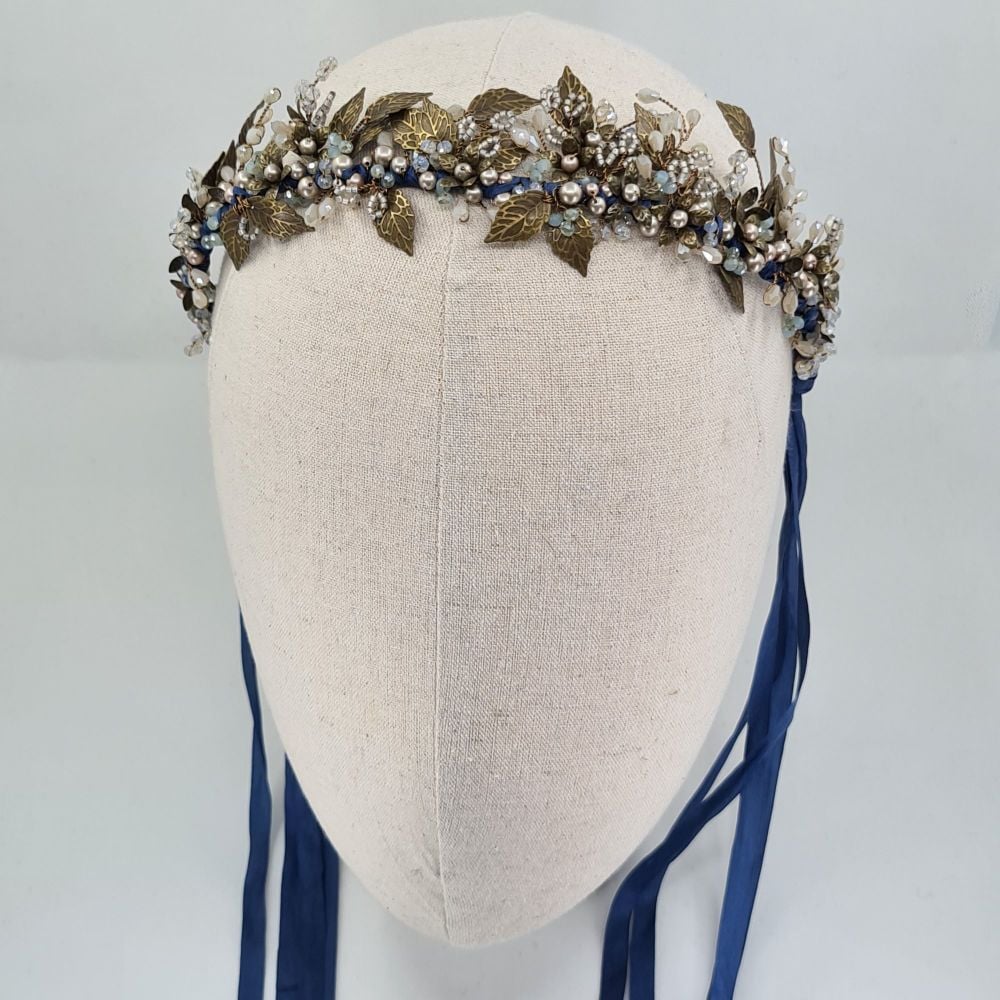 I seem to have a bit of an obsession with Autumn themed designs - there is a whole collection called Autumn. Here are a few more Autumnal pieces available in the sample sale at greatly reduced prices.
There is is sample version of my popular Aubrey Mini Comb - this one is in the antique brass colour way and features really pretty carved brass acorn cups.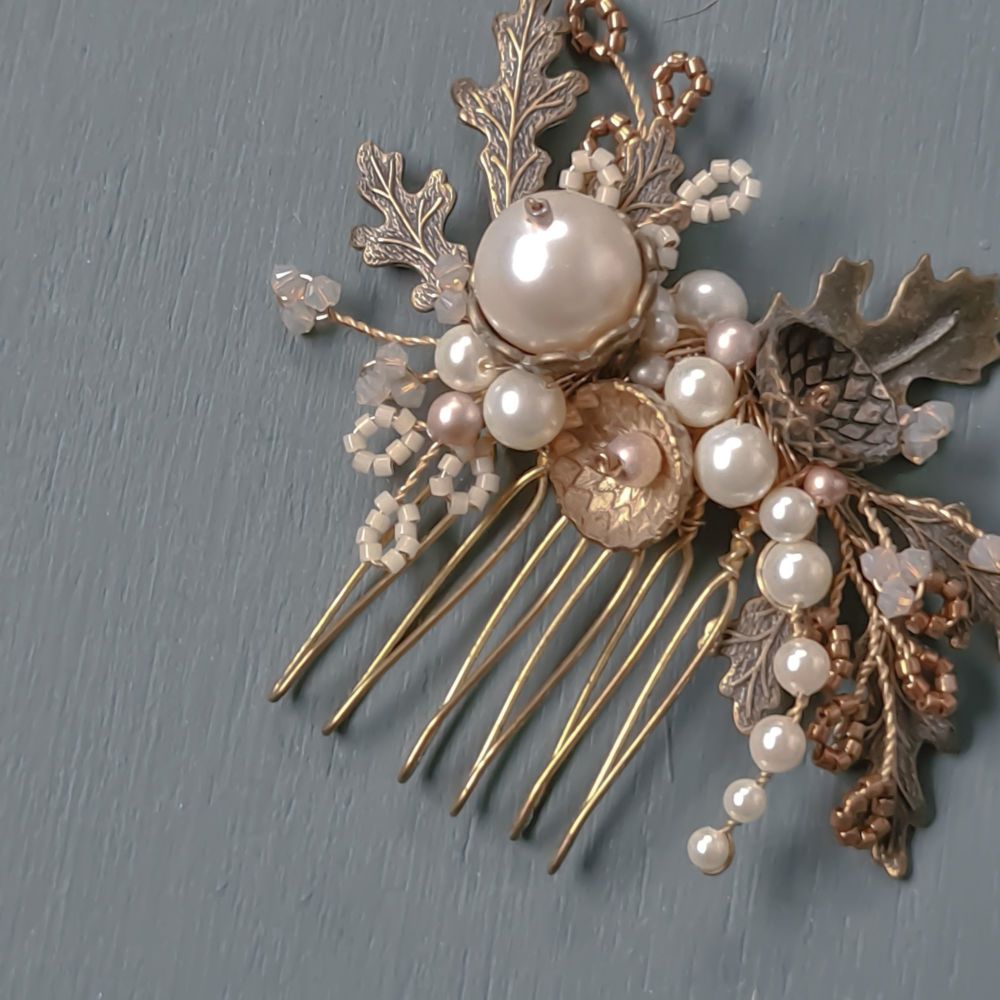 Here is another design my Silver Leaves and Freshwater Pearl Headpiece Set that hasn't really been seen before; it's a set consisting of a hair comb and a single hair pin. Made from delicate silver leaves and ivory white freshwater pearls, this design looks amazing pinned into the side of your hair or pinned into a ballet bun. It's asymmetrical in design so it really resembles leaves, vines and tendrils of foliage in your hair - it's very pretty.
Another of my favourite pieces in the sample sale is my Vintage Lace Headdress - I used to use a lot of vintage lace and fabrics in my earlier designs. I still have an enormous collection of antique laces and fabrics and still take on the occassional commission but, due to the sheer amount of time it took to create these pieces, I stopped making them. I would stitch several offcuts of antique lace together and then painstackingly embroider over the top of the lace with silks and then sew tiny glass seed beads and freshwater pearls. It would take me weeks to do so they just weren't really viable for me to continue making.
This headdress really is a unique design and it would be perfect for someone either having a vintage themed wedding or for a bride who has an antique wedding dress. I have used offcuts from a Victorian dress colour with some gorgeous pale taupe coloured lace for this headdress and I've embroidered the Victorian lace with ivory coloured silks, freshwater pearls and sand opal crystals.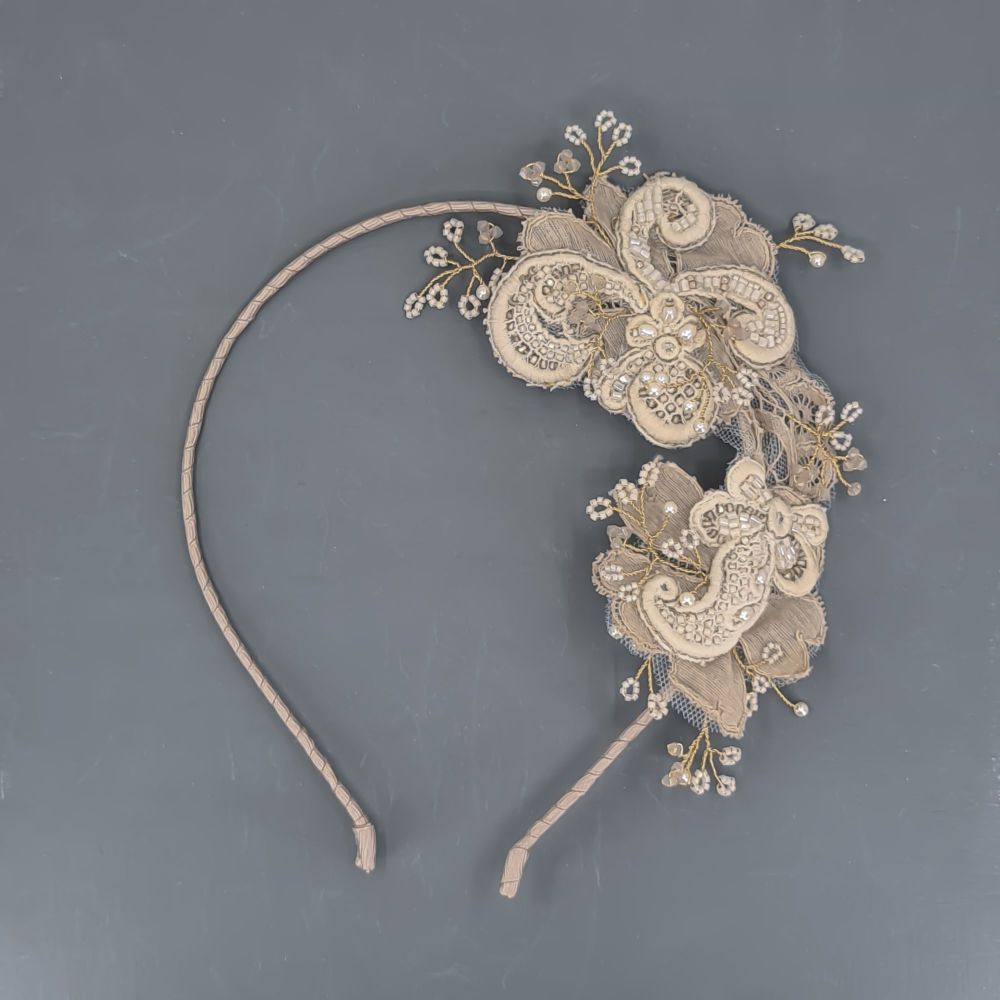 My Bridal Sample Sale will run over the August Bank Holiday weekend and possibly a bit longer whilst I get the new collection ready! There are some absolute bargains to be had and some of the pieces are completely unique bespoke designs so nobody will have anything quite like it.
You can access the bridal sample sale HERE.