Styling Advice | How much does it cost to have Bespoke Bridal Hair Accessories handmade for you?
Posted on
Styling Advice | How Much Does it Cost to have Bespoke Bridal Hair Accessories Handmade for You?
If you're thinking of having your wedding hair accessories handmade especially for you, one of the first questions you're probably going to have is 'how much will it cost me?' Bespoke handmade bridal hair accessories are quite special so in this series of blog posts, I will answers some of the questions you might have if you're considering having your hair accessories made for you from how to choose the right designer to make your accessories to the reasons why you would want to consider having a bespoke headpiece made for you. In this first post, we will look at how much the bespoke process costs.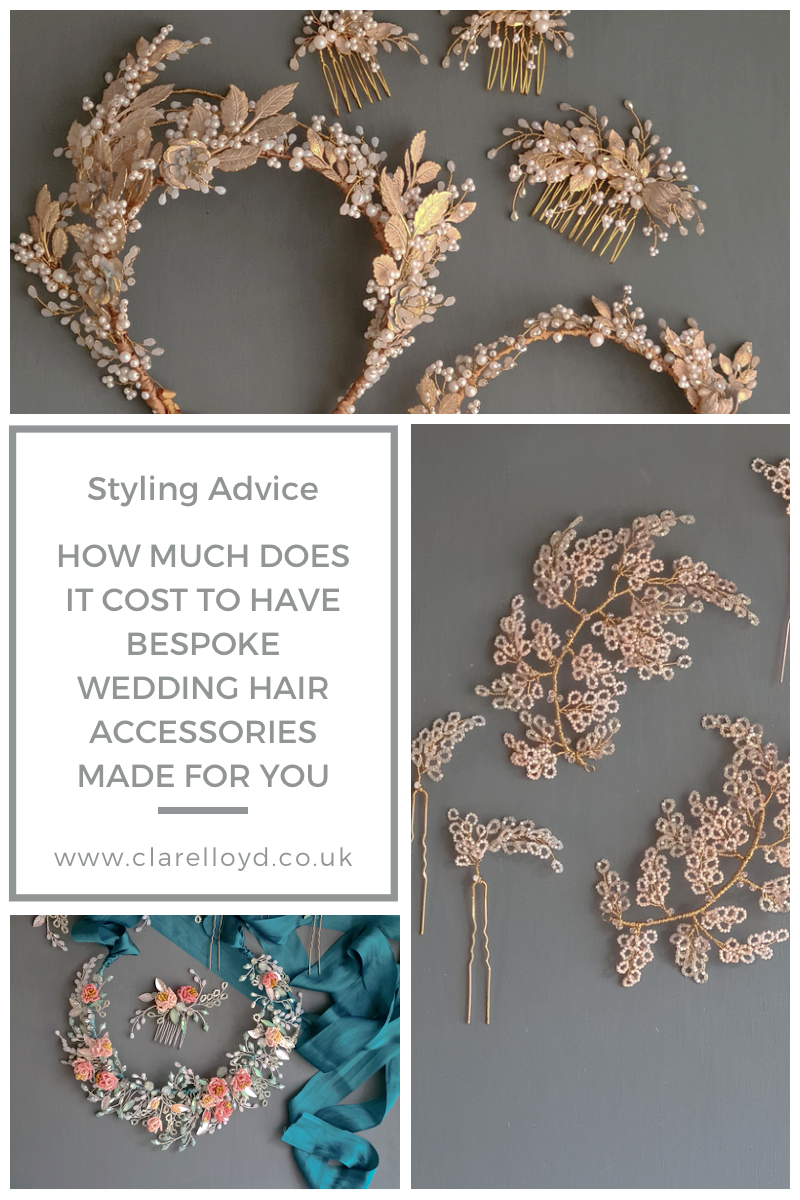 So, How Much Would it Cost to Have My Bridal Hair Accessories Handmade for Me?
Choosing to have your bridal hair accessories handmade for you is quite a big decision to make. I will look at the reasons why you should choose bespoke bridal hair accessories for your wedding day in another blog post but for this blog, I'm just going to talk about the costs.
Since I started making hair accessories for brides in 2012, I have made a lot of bespoke headpieces and it's my favourite part of this business. The journey of getting to know each bride and being able to turn her ideas and visions into her dream hair accessories is a wonderful thing to do and I can't begin to explain how much I love it. One of the first things to think about is always going to be what sort of budget would you need to have a bridal headpiece made especially for you.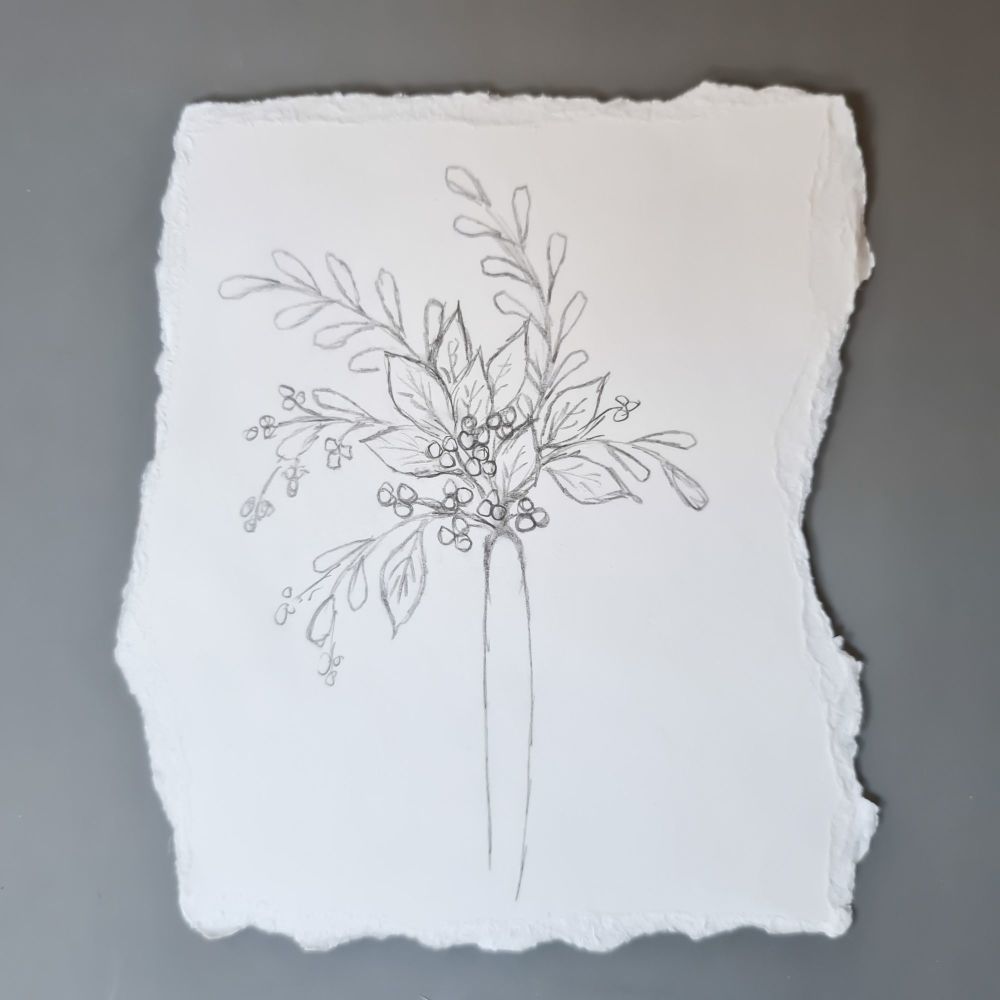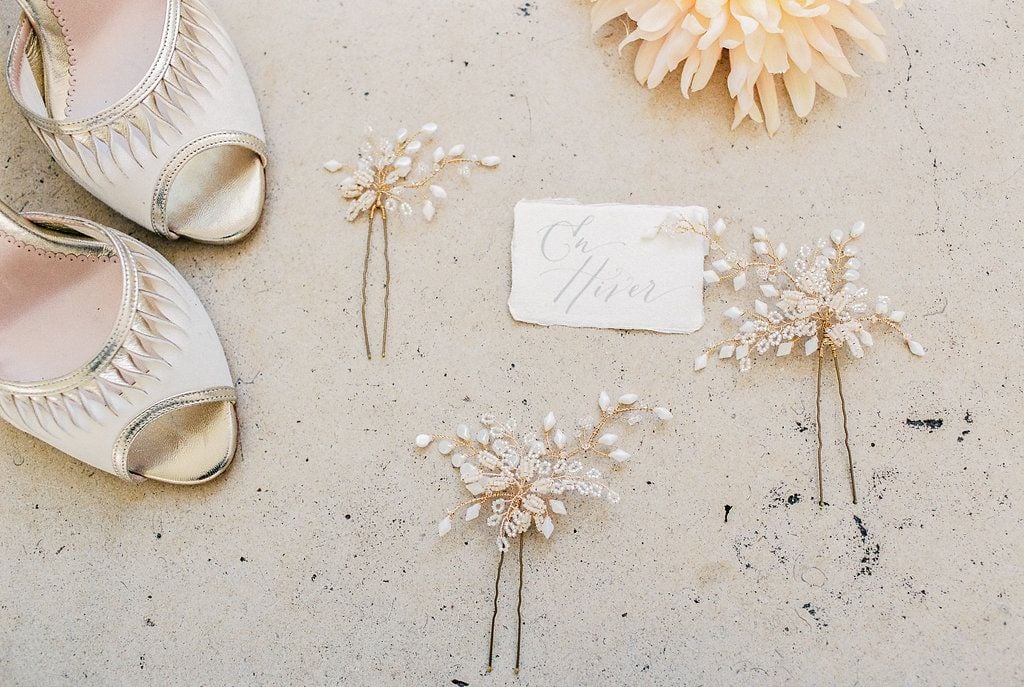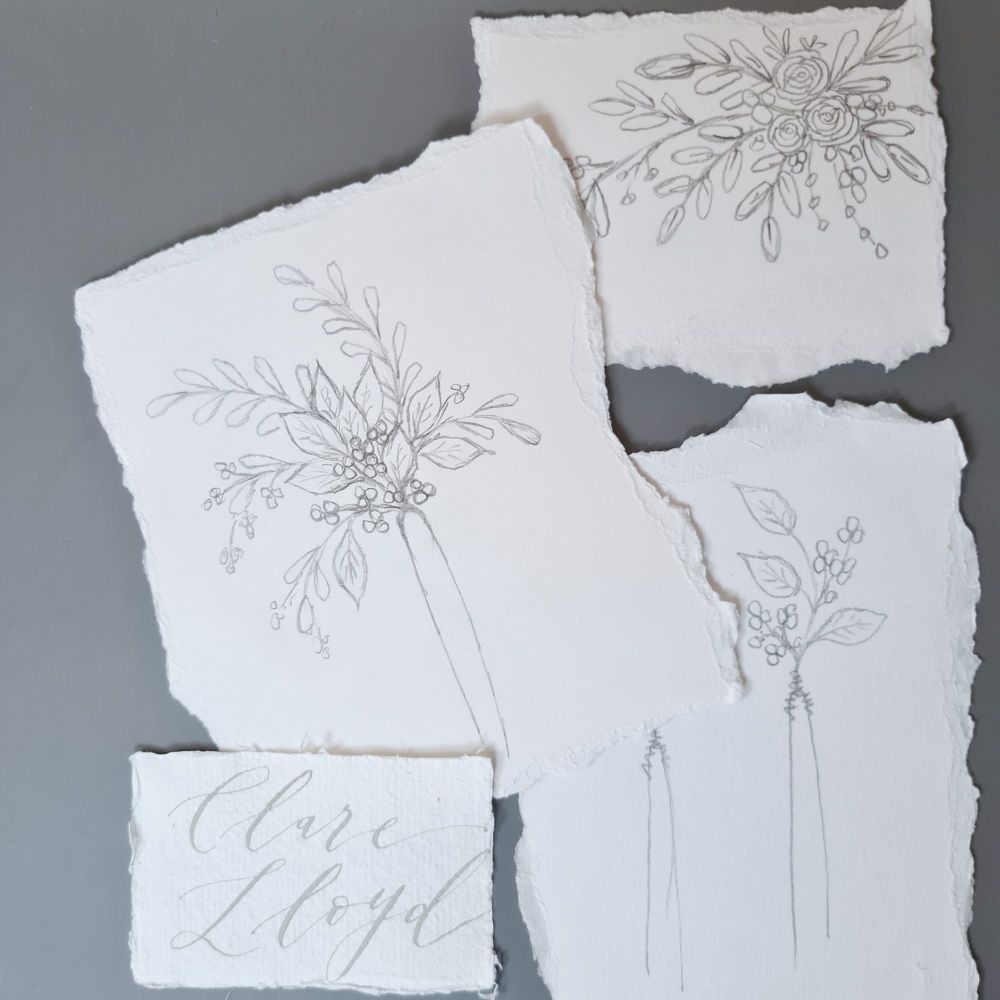 I Don't Charge for my Bespoke Service
Consultations with me, either in person at my studio or done online are always free. I don't charge for consultations nor do I charge a fee for my Bespoke Service. So whether you are thinking about some changes to an exisiting design or whether you're thinking of having something designed and made for you from scratch - there isn't a charge for that service. I will only charge you for the materials used and the time it takes me to make the hair accessories for you.
As each and every one of my hair accessories is handmade to order, you have lots of options to customise an existing design in my collection, for example, you could:
change the colour of the wire from silver to gold
you could swap pearls for crystals
change a design from a headband to a comb
change the colours to coordinate with your colour scheme
make a headpiece larger or smaller
There are lots of ways you can make one of my existing designs completely unique to you and the only additional cost would be if I use more materials, it will take me longer to make or the new materials are more costly than the original designs. Similarly, the cost can be less if you want a smaller version of a headdress or the materials are less expensive. So adapting an existing design can be a very cost effective way of having a bespoke headpiece that is unique to you.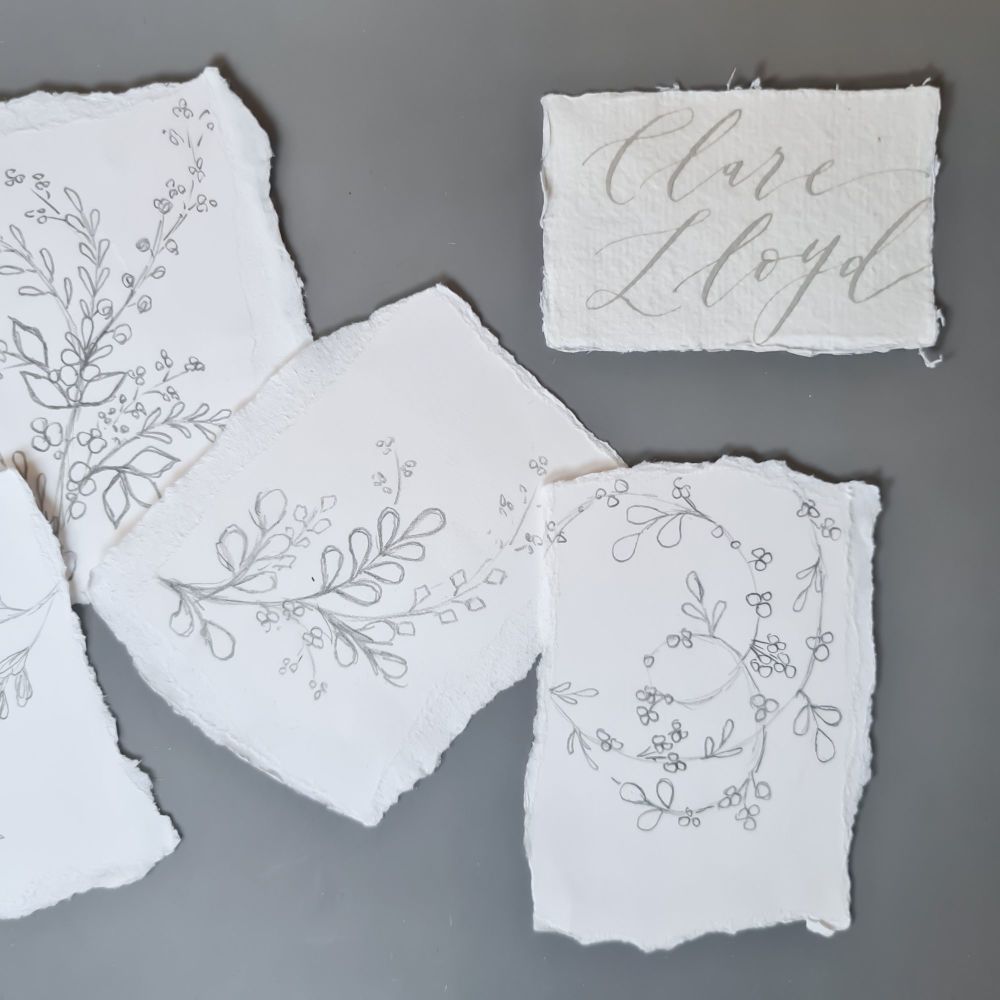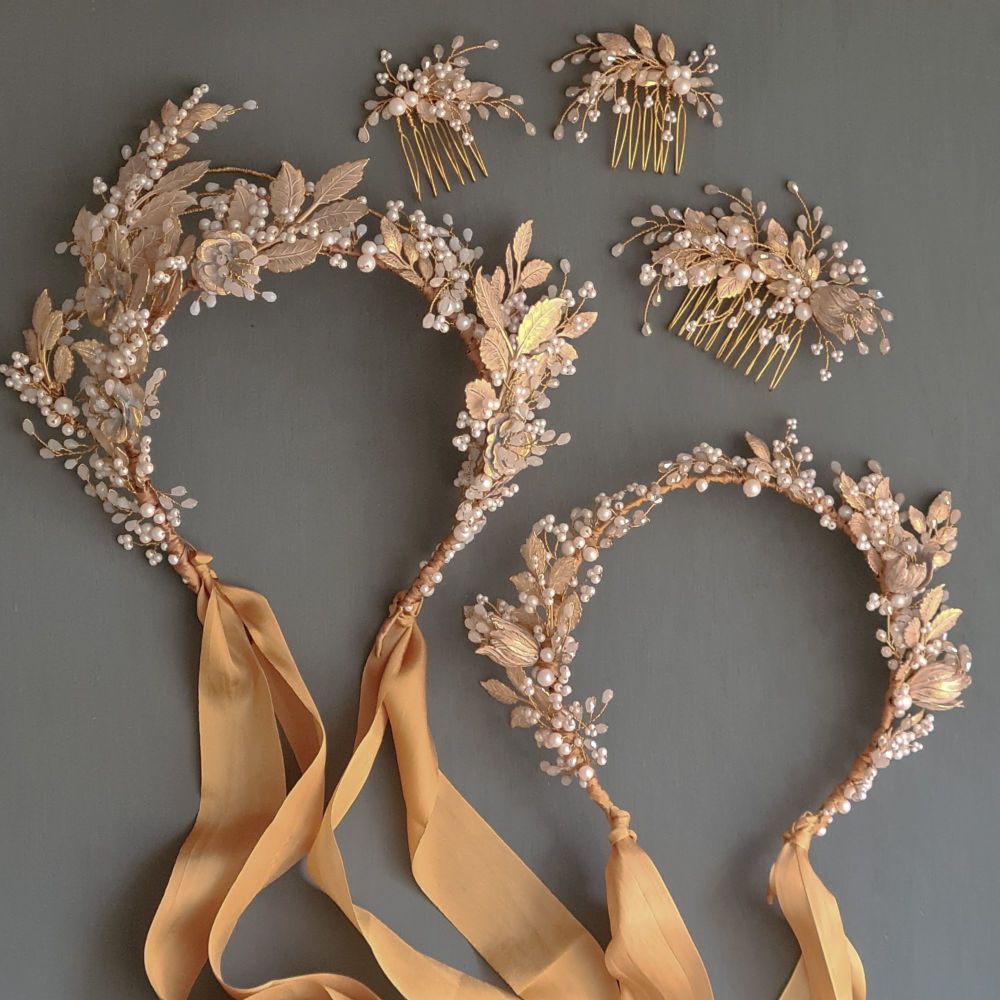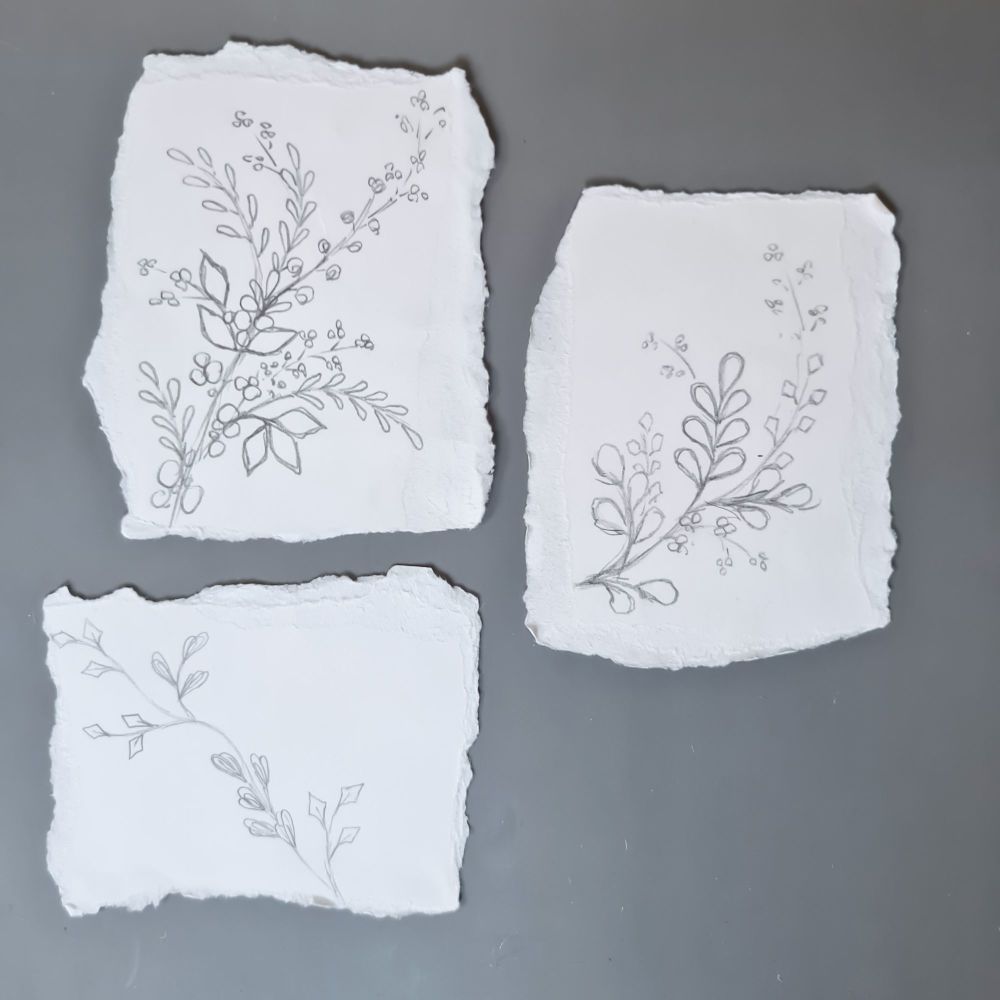 What if I'd like to have completely unique wedding hair accessories designed for me?
If you would like to have your bridal hair accessories designed completely from scratch, I can do that for you. Whether you have an idea of what it is you'd like or whether you've got absolutely no idea where to start - I can help you bring your ideas to life.
The cost of having your bridal hair accessories handmade exclusively for you depend on many different factors from the size and complexity of the design to the materials I would use to create your headpiece.
As a starting point, having a completely bespoke design made for you would start at £250 for a medium sized comb, £350 starting price for headdresses and a £500 starting price for crowns.
When we have our initial discussion about your ideas we will also talk about your budget and what I can make for you within your budget. I will always work within these parameters and whether that be a modest or larger budget, I will always be very clear about what can be achieved and all costs are clearly explained and agreed before we go any further.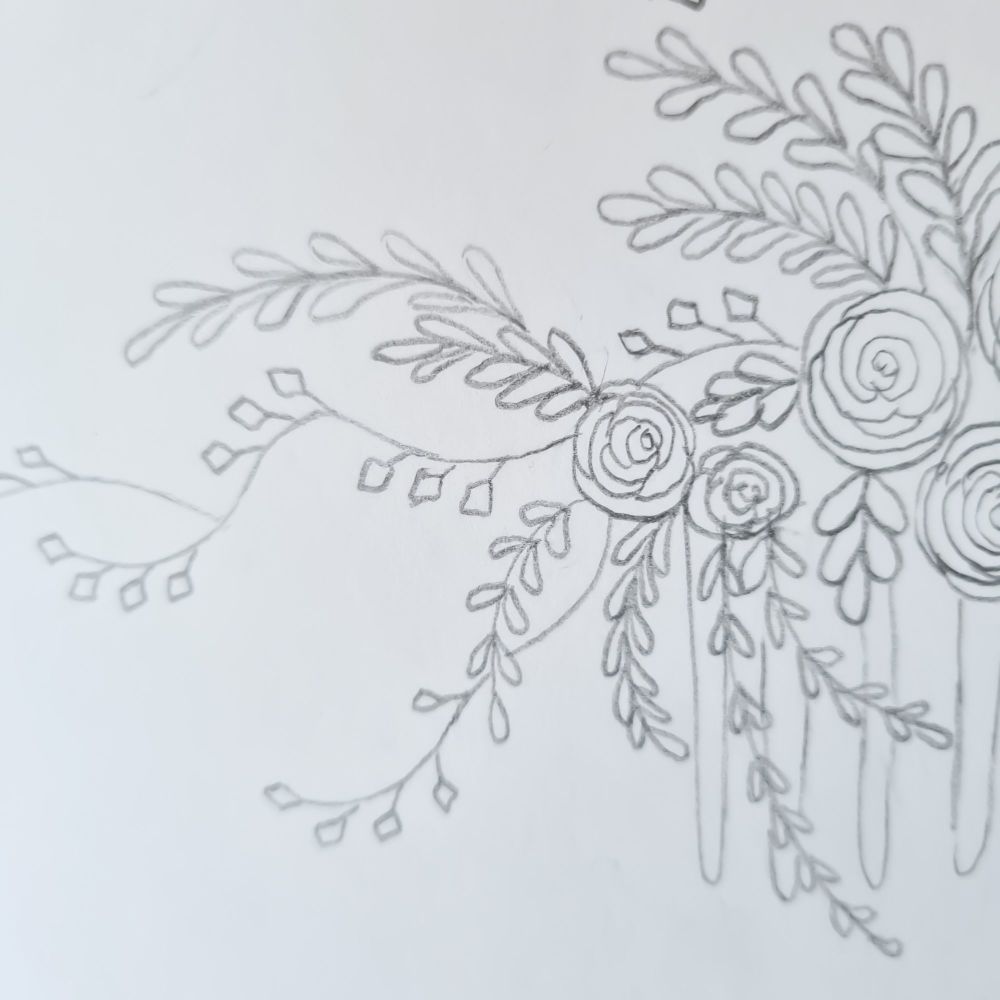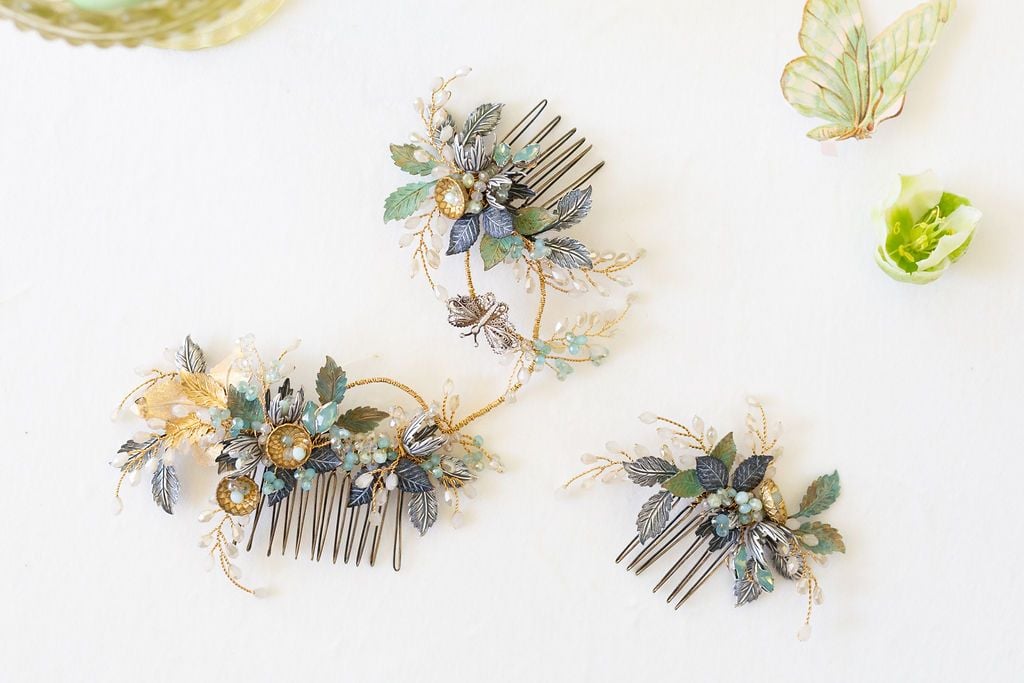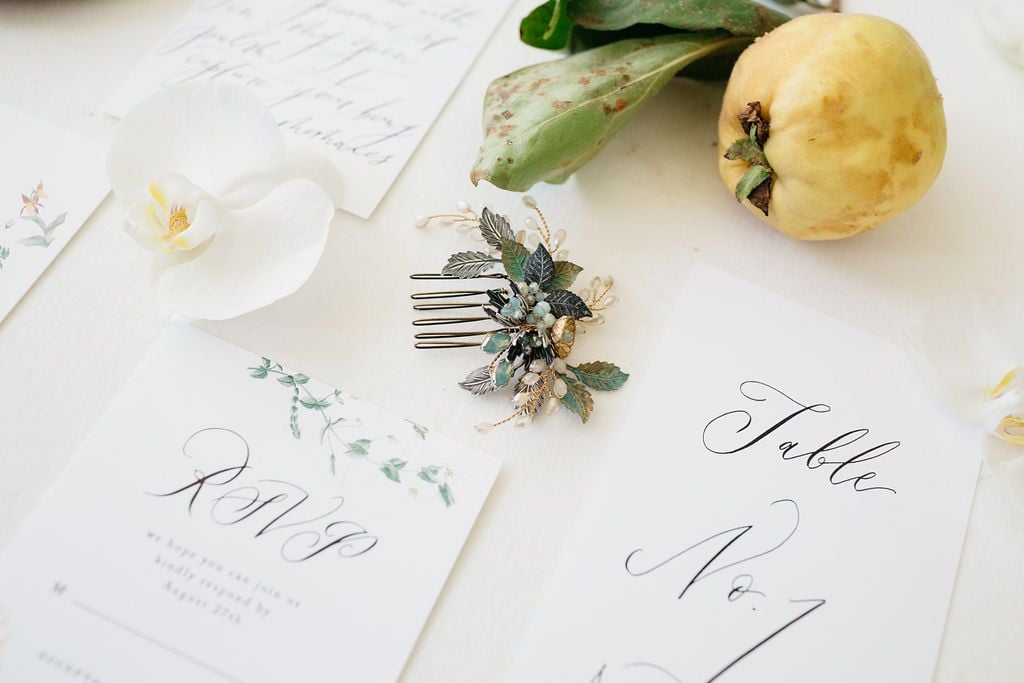 The above images show my Aurelia Headpiece and Comb - you can see it here
How do I start the Bespoke Process
The first place to start is to contact me by email and let me know a little bit about your ideas - it's always helpful for me to see some photos of your dress and understand how you're thinking of styling your hair (even if it's just an idea at this stage), let me know if you're wearing a veil and about the jewellery you'll be wearing. Do you have any colour schemes you'd like to incorporate and equally as important, what is the date of your wedding.
Things are a little different at the moment with the current Covid-19 pandemic but, I can still arrange appointments at the studio for consultations, although I am limited to just two visitors per appointment. More information about current restrictions can be found here.
For those who are further afield or where visiting the studio isn't possible, we can do everything over an email, telephone call or Zoom/Facetime chat.
I hope that gives you some idea as to the cost of having a bespoke wedding hair accessory made for you. You can also read more about my Bespoke Service here.
Before I go, I will just mention that timing is of the essence with bespoke work; if you are a UK based bride I will need between four and eight weeks to design and make your hair accessories and, if you are an overseas bride, then I would suggest a minimum of three months.
In the next blog posts in this series, I will discuss the bespoke making process in more depth, I'll look at the reasons why you should choose bespoke and I'll also talk about how to find the right designer to make your wedding hair accessories for you.
If you've got any questions or, if you're ready to start talking bespoke headpieces, then I'd love to hear from you - you can contact me here!
Styled product images by Bowtie and Belle Photography from my Aurelia Collection - you can see more here.