Bridal Hair Accessories |'Les Fleurs' A New Collection of Wedding Hair Accessories by Clare Lloyd
Posted on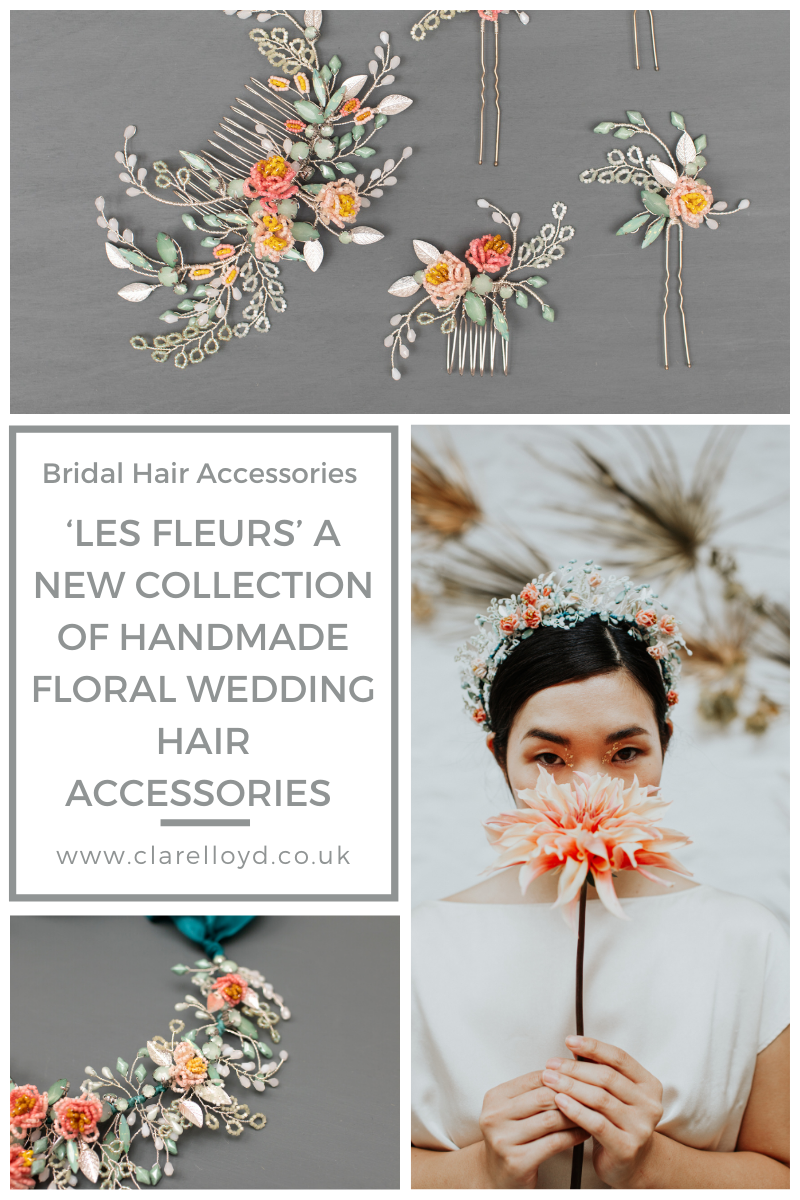 Bridal Hair Accessories | 'Les Fleurs' A New Collection of Floral Wedding Hair Accessories | Handmade by Clare Lloyd in Somerset
I'm very excited to finally be able to show you the first of two new collections of wedding hair accessories that I've created this year. 'Les Fleurs' is a range of beautiful bridal hair adornments and jewellery inspired by all things floral. I thought I would introduce my new designs with a little question and answer blog post. And to celebrate the launch, there is a special offer for anyone who signs up to my Newsletter and I'm runnng my first ever giveaway on Instagram! Fingers crossed this works....
A little bit about the new collection of bridal hair accessories and jewellery...
I started work on the new designs last year and it quickly became apparent that I was creating two quite different collections of wedding hair accessories. One collection was incredibly complex and intricate and a further development from my previous collections and the other was, well, quite minimal. One common thread was very clear though and that was the importance of sustainability and making beautiful bridal hair accessories that considered the environment. I decided early on that I wanted to make a vegan collection of wedding hair accessories and bridal jewellery and not to use any freshwater pearls and definitely no plastic - not that I use any plastic anyway but with the rise in popularity of polymer clay flowers, I felt it was important to offer something different.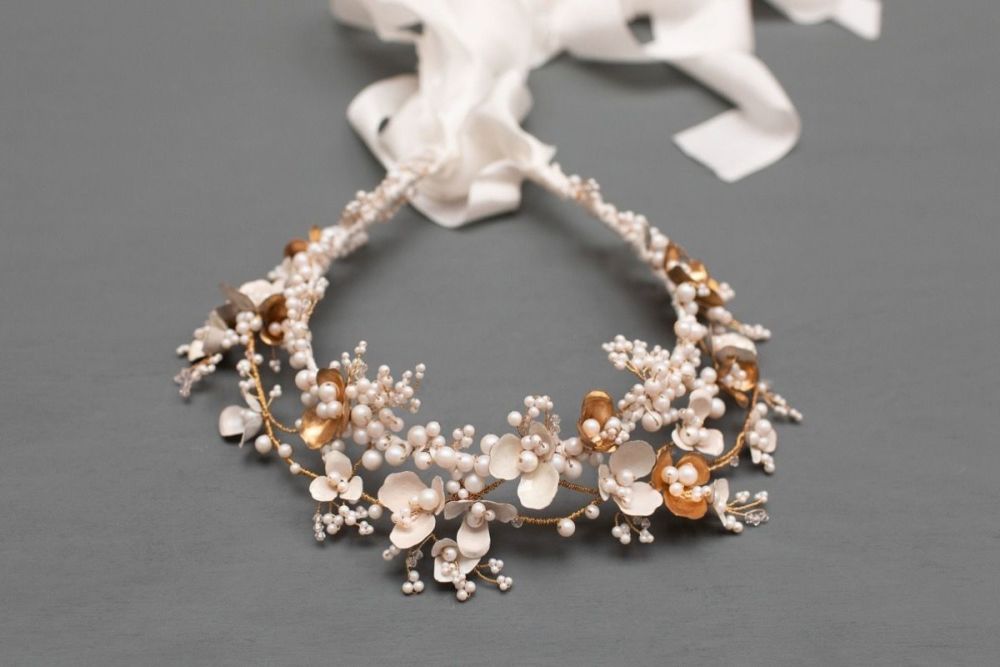 What materials have I used to create this collection?
I have used a mix of raw brass and recycled brass wire with glass pearls, crystals and beads to create my new wedding hair accessories. For the silver coloured designs, I have used a silver plated copper wire. I have used mostly Swarovski glass pearls and crystal bicones, Preciosa glass beads and tiny Miyuki Delica seed beads. A lot of my brass has been enamelled but I've used a water based cold enamel that is safe for children to use and doesn't contain any unpleasant chemicals like some of the oil based paints. I've used recycled sterling silver for my jewellery and I've started to move away from traditional silks and use bamboo and peace silks. I still have some stocks of woven silk to use up but I will be replacing those with ethical and vegan silks.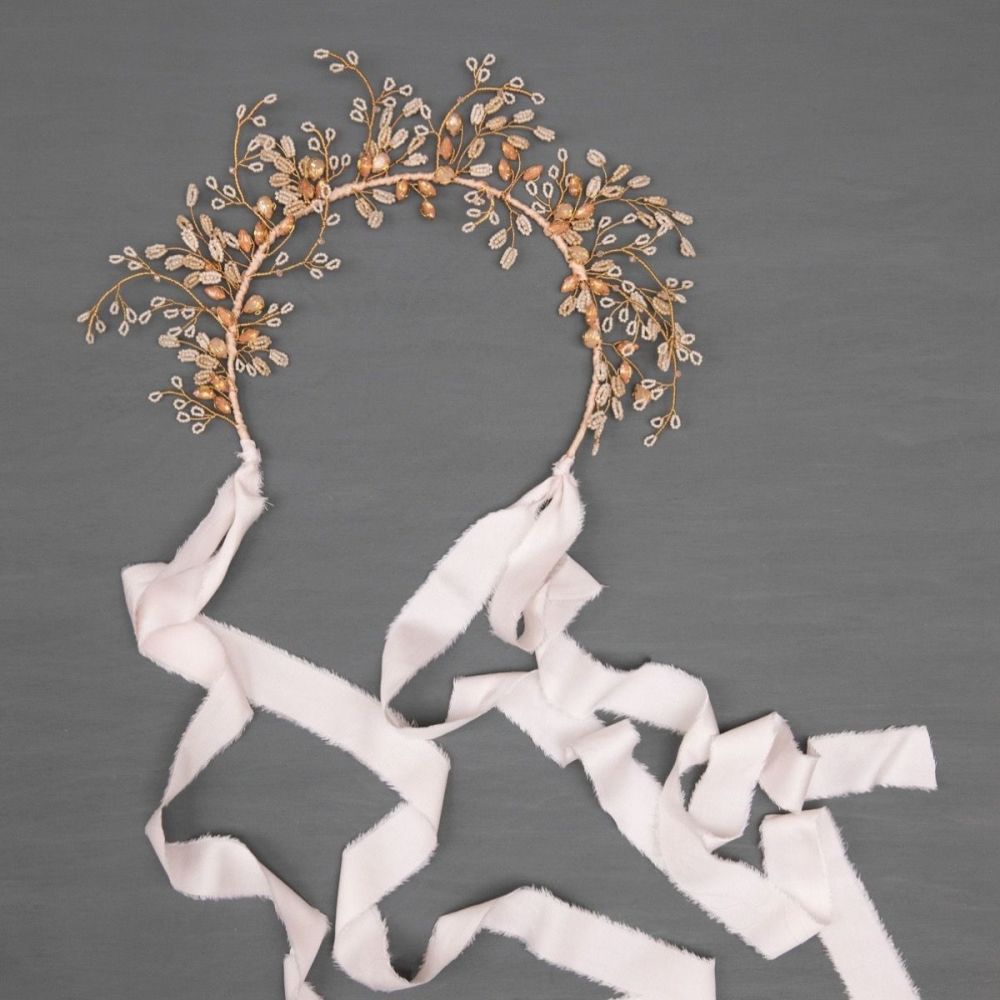 Now, since I made these new designs, Swarovski, who are one of my main material suppliers have announced that they will be stopping production of their crystal components. I use a lot of Swarovski glass pearls and crystals so this news has come as a huge shock. I have quite a stockpile of Swarovski glass pearls and crystals, certainly enough for me to make a considerable amount of hair accessories, however, as I use up these pearls and crystals I won't be able to replace them and that does mean that I will only be able to make some of these designs in limited numbers. I think this decision by Swarovski is going to have quite an impact on the bridal industry but, everything changes and my designs constantly evolve (wait until you see my next collection) and I will find some more, equally gorgeous and ethical materials to use in my designs.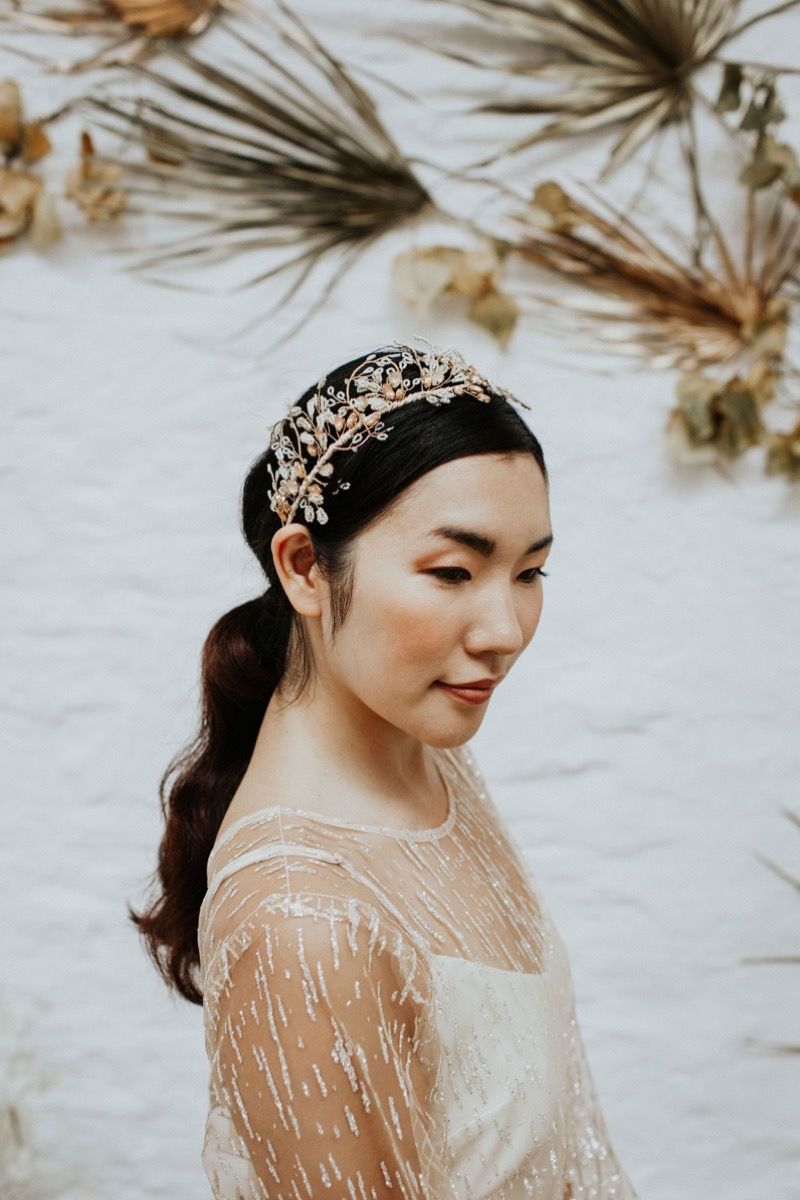 What new designs will I find in the new collection?
For this collection of bridal hair accessories, I have made a mix of hair pins, hair combs, pinnable headpieces, headbands and my favourites - statement crowns. I've found that hair combs have been especially popular this year so I have made sure that there are some lovely new hair comb designs in various sizes to choose from. Like most of my previous collections, the hair accessories are designed to be combined, mixed and matched so that you have the most flexibility to create a unique bridal look. My hair accessories are made to work with multiple hair styles so they should be easy to style, easy to wear, beautiful and incredibly comfortable.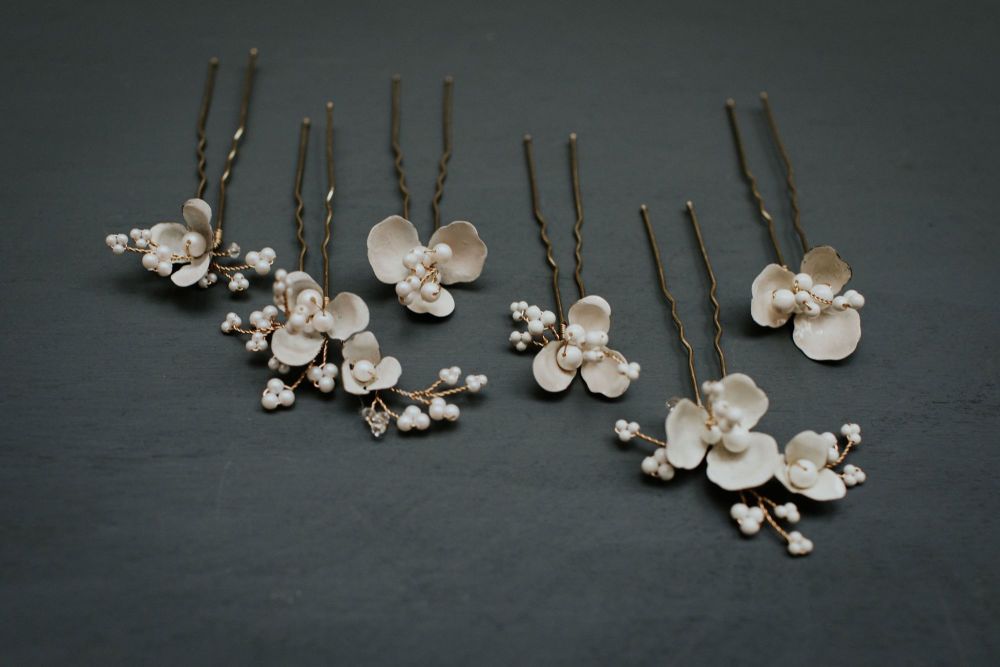 I have made some of the most complex and detailed statement crowns of my entire life in this collection; they are works of art that take me several long days to complete. I'm going to write a separate blog post on just how difficult they are to make as I'm pretty sure nobody with any sense would ever attempt to make these! I love making them and the more complicated they are, the more I love them! They are suprisingly easy to wear though and really lightweight and comfortable to wear.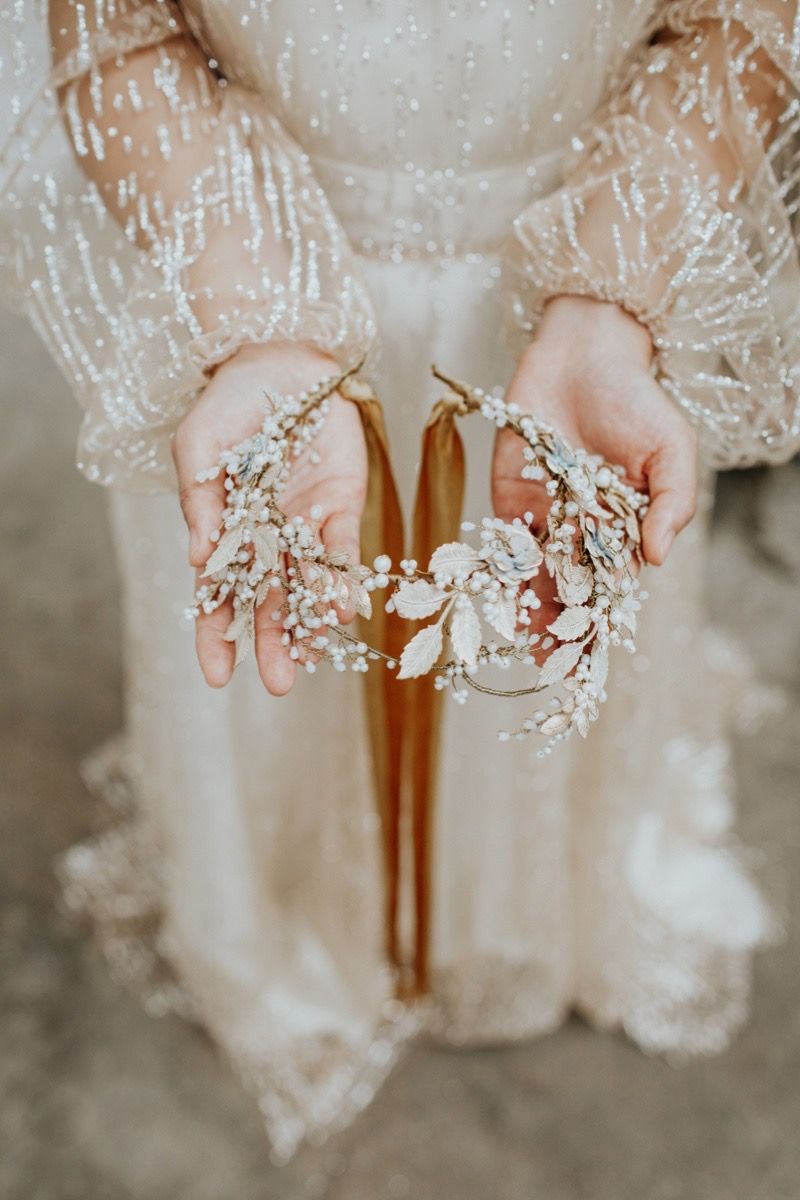 Tell me about the Instagram Giveaway!
I've never done a giveaway before so, this is a first for me - I just hope I don't mess it up! The giveaway will be time sensitive though so, if you're reading this blog post in December 2020, then you've defintely missed it! The plan is to giveaway a set of my golden brass Anemone hair pins to one lucky person so, if all goes to plan, the giveaway will coincide with the launch of the new bridal hair accessories and jewellery collection over the weekend of 14th November. I might do another one though when Round Two of the new hair accessories are ready to launch so keep an eye on my Instagram account as that is where it will happen.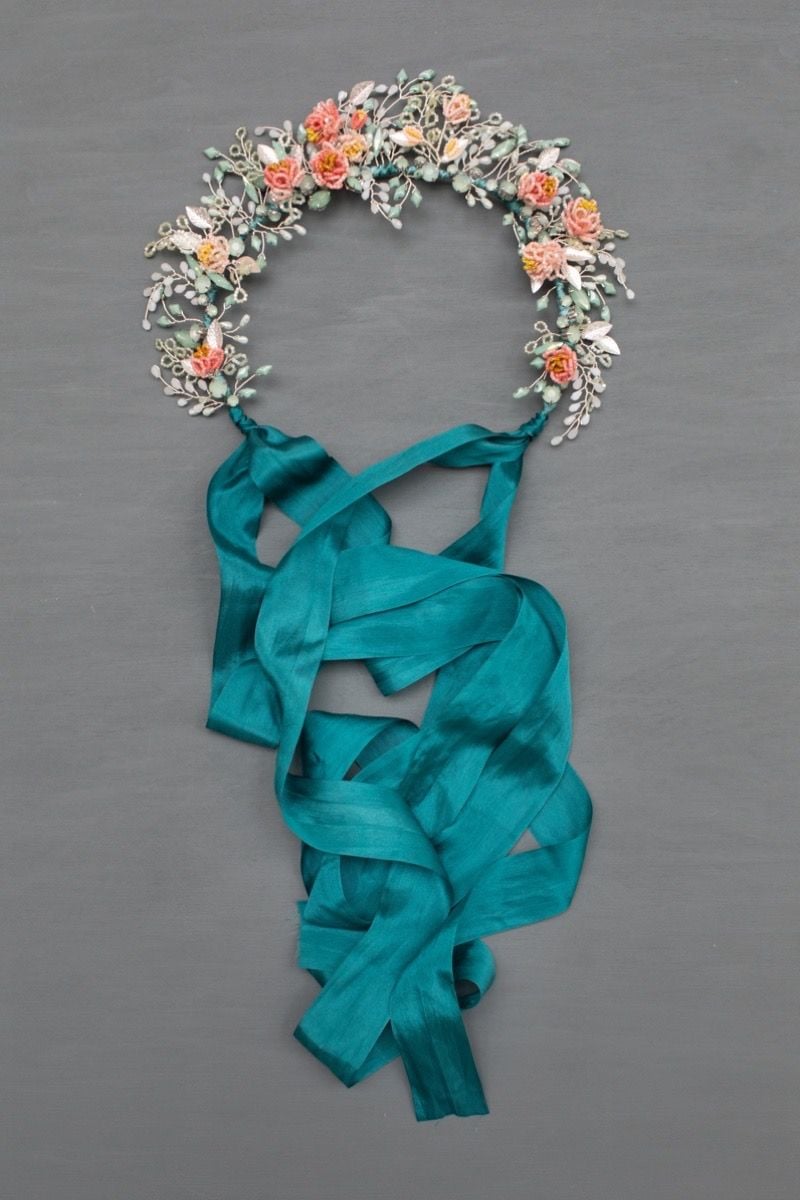 How do I get my hands on the discount code?
That's easy, just sign up to my Newsletter and you'll be sent the code by email. The discount will be valid against any order from the new Les Fleurs collection of wedding hair accessories and jewellery placed from launch until 31st December 2020 so that should give you time to have a look at the new designs and see which one you might like!
If you haven't already signed up to my Newsletter you can do so here.
I've only just got around the setting up my Newsletter (it's only taken me six years!) so it's going to be a very infrequent affair. I can't begin to explain how long it took me to create the very basic automated reply on Mailchimp!
So, let's have a look at some more of the new designs in a little video at the end of this blog post. I really hope that you love them - they have been an absolute joy to design and create so I cannot wait to see which ones you choose and how beautiful you look wearing them.
All of the collection photos are taken by one of my favourite photographers Oxana from Oxi Photography. More of these beautiful images will be coming in the Spring once the full shoot has been published on a blog but for now, there are a few sneak peaks to see here with full team credits.